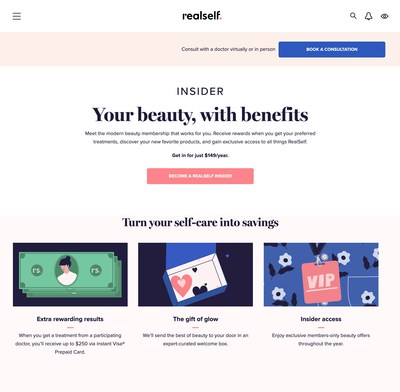 RealSelf is introducing RealSelf INSIDER, a new membership program that offers cash rewards for cosmetic treatments as well as exclusive perks, including free virtual consultations and medical-grade skin-care products.
RealSelf is launching the program in Los Angeles and New York City before expanding to additional markets.
An annual RealSelf INSIDER membership costs $149, and members gain access to benefits immediately after signing up. RealSelf INSIDER members can choose to receive a $125 cash back reward for a nonsurgical treatment twice annually ($250 total value) or one $250 cash reward for a surgical procedure.
Members can:
Sign up to become a RealSelf INSIDER. New members receive a welcome box worth $200 that features medical-grade skin-care products from brands like ZO Skin Health, Epionce, and Skinbetter Science.
Book a consultation through RealSelf. Members can choose to consult virtually (for free) or in person with any RealSelf Verified doctor in Los Angeles or New York City who is participating in the INSIDER program.
Get a treatment. When a member is ready to move forward, they can visit their RealSelf Verified doctor for the nonsurgical or surgical treatment of their choosing.
Receive a cash reward. To redeem a cash back reward, members simply share their RealSelf INSIDER account email with their doctor. After the appointment, RealSelf will email members an electronic Visa prepaid gift card.
More than 70 doctors in Los Angeles and New York City are already participating in the RealSelf INSIDER program. To be approved for the program, doctors must have earned RealSelf Verified status, which requires them to maintain specific standards of trust, transparency and patient satisfaction. In addition to having an active medical license and remaining in good standing with their local medical board, RealSelf Verified doctors must maintain an average patient satisfaction score of four stars or higher. They are also required to respond to RealSelf user requests within two business days and must provide specific information such as years of experience, hospital privileges and whether they carry malpractice insurance on their RealSelf profile. The status of a RealSelf Verified doctor's medical license is reviewed by RealSelf every three months.