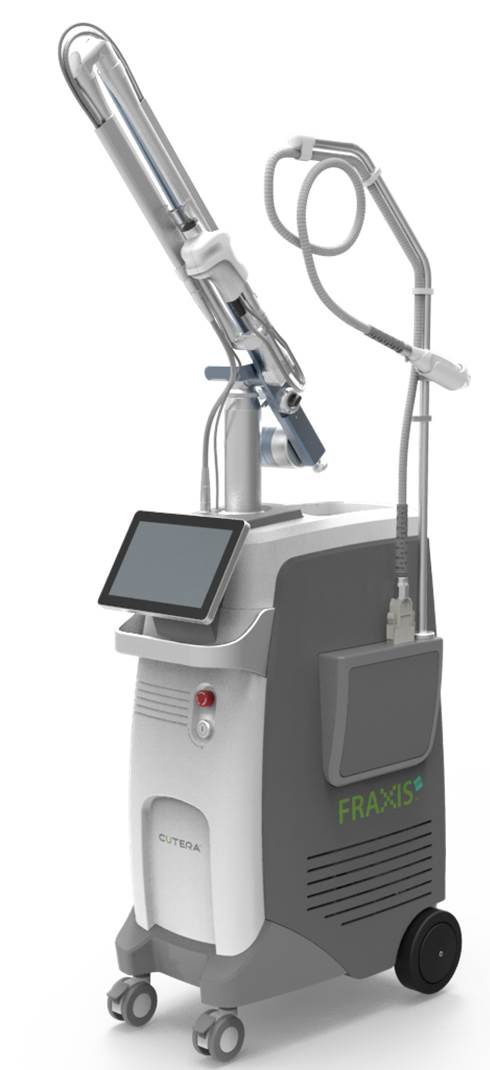 Cutera, Inc. is launching Fraxis PRO progressive dermal remodeling technology.
Fraxis PRO combines fractional CO2 for skin resurfacing and radiofrequency microneedling for dermal remodeling in a single device.
Fraxis PRO treats:
Fine Lines
Wrinkles
Acne Scars
Burn Scars
Stretch Marks
"The greatest thing about the system is that it delivers the best of both worlds for skin remodeling," says Ashish C. Bhatia, MD, FAAD, Associate Professor of Clinical Dermatology Northwestern University, Feinberg School of Medicine in Chicago. "Whether you're treating deep acne scars, just looking for a little firming or a micro peel, Fraxis PRO gives the flexibility to treat all kinds of patient needs."
With two headpiece sizes for each modality, Fraxis PRO is able to treat the entire face and body. The Fraxis PRO treatment types can be used alone or in concert based on patient needs and downtime tolerance.
Customization options include:
Fraxis PRO Refine – This light RF treatment dispenses radiofrequency energy via small microneedles at varying depths of the skin. It addresses fine lines, large pores, wrinkles, stretch marks, and acne scars in a series of 3-4 treatments that can be performed on all skin tones, any time of year, and has little to no downtime.
Fraxis PRO Ultra-Light – This light laser peel provides gentle exfoliation via CO2 laser technology. A series of 3 sessions is recommended.
Fraxis PRO Ultra – This CO2 technology smooths and enhances skin tone and texture. It also promotes collagen production t through fractional skin resurfacing in a single treatment.
Fraxis PRO Revive – This treatment combines both CO2 laser and RF microneedling in the same session. The Fraxis PRO Revive achieves dramatic results in 1-3 sessions and can be performed on fair to medium skin tones with up to a week of downtime.
"We are able to use the FP system for nearly all of our patients. The microneedle RF system allows treatment of all skin types for remodeling and rejuvenation. The fractional CO2 is my go-to for micro peels as well as fractional resurfacing," adds Dr. Bhatia.