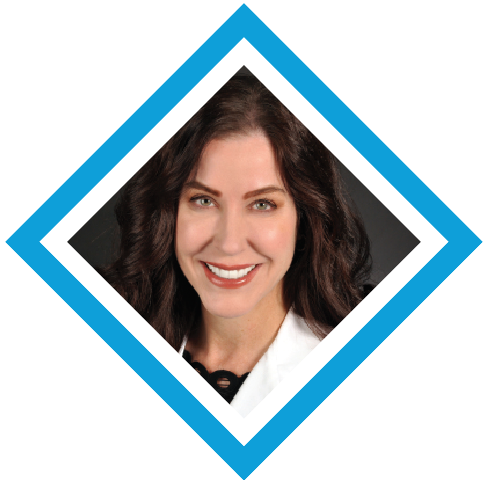 When Chicago dermatologist Carolyn Jacob, MD walks to her downtown office, patients often wave or just stop and chat with her, eager to share their news and see how she is doing. Connecting with patients and maintaining relationships comes naturally to Dr. Jacob, an Associate Clinical Instructor at Northwestern's Feinberg School of Medicine and Founder and Medical Director of Chicago Cosmetic Surgery and Dermatology (CCSD) in Chicago's River North neighborhood.
What is responsible for your renowned bedside manner?
Carolyn Jacob, MD: I grew up in the Midwest and was taught to treat others the way that you would like to be treated. The way we relate to our patients is very friendly. There are a lot of different personalities that come through our office and we meet each of them with compassion and understanding. We see younger kids with severe acne and octogenarians who use a walker for skin cancer checks, and you have to be really good at reading people and their mood and remember that it is all about them and their skin needs.
Has this changed at all due to the Covid-19 pandemic?
Dr. Jacob: Such empathy and understanding is particularly important today in the COVID-19 era. Some patients may have lost a loved one or been furloughed. Every patient should be treated with very gentle gloves moving forward because we really don't know what their experience has been. Making sure patients feel safe and protected is also important. We are now offering telehealth services for general medical dermatology and will continue to do so for the distant future. When patients do come in, we have ample personal protective equipment (PPE) and they must wear a mask and have their temperature taken before being seen. We also have each room thoroughly disinfected after each patient visit.
How do you best meet cosmetic patient's needs?
Dr. Jacob: It's important to understand each patient's desires. We have so many options that there is always something we can offer to help them meet their goals. Many body contouring patients benefit from Emsculpt, for example, but others may need a surgical procedure, such as an abdominoplasty, and they can be referred to our plastic surgeon. There's something we can offer every patient to help them.
Tell us about the atmosphere and décor at CCSD.
Dr. Jacob: It is soothing, clean, and not cluttered. We created a nice calm feeling where there is educational material on video screens, soft spa music, and a very modern feel.
How do you partner with industry?
Dr. Jacob: We at CCSD also conduct cosmetic and dermatologic clinical research and publish in medical journals and textbooks. I work closely with industry, particularly companies that share my values. For example, BTL has been incredibly responsive to all of my questions, sending study results when inquiries are made, explaining in detail how the devices were developed, and the improvements made over time. They are also always open to new ideas for research, as well as technologies. Support is great, too, and is always available when we need it.