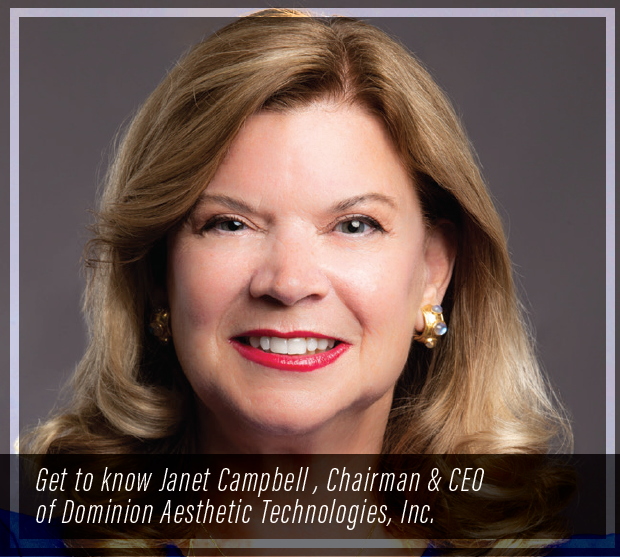 Janet Campbell's CV quickly impresses. She received her BA from the University of Missouri, Columbia and her MBA in finance from The Johns Hopkins University.
Janet was the founder and former Chairman and CEO of Seno Medical Instruments, Inc. Under her direction, Seno became the world's leader in the research, development, and commercialization of opto-acoustics for cancer diagnosis, the first new functional imaging technology developed in 22 years.
Her newest brainchild is eon, the world's first non-contact, no-touch laser body contouring robotic platform device that is FDA cleared for abdominal fat reduction, the first product from Dominion Aesthetic Technologies, Inc. She has assembled a team of world-class laser experts.
Janet serves on the board of the Texas Business Hall of Fame and is a member of the Cosmos Club in Washington, DC. She is a founding member of the Board of Directors of the Bioscience Committee and the Jewish Federation in Washington, DC.
Janet received the international Gold Stevie Award for Female Entrepreneur of the Year in 2013, The San Antonio Business Journal honored her as CEO of the year in the field of medical devices, and she was inducted into the San Antonio Women's Hall of Fame in 2016.
Who were some of your mentors?
My initial mentors were my mother and my grandmother, both successful entrepreneurs and executive women in business and tremendous role models.
I was privileged to work with and get to know Dr. Denton Cooley, one of the most world renown physicians in cardiovascular. He took me under his wing and trained me technically about pacemakers and cardiology. It was an incredible opportunity. Furthering that knowledge, I worked for Al Mann, the founder of Pacesetter and other medical device companies. Later, I was asked by Marty Sutter, founder of the Woodlands Venture Fund, now Essex Woodlands Venture Fund, to work for him. I had the privilege to learn from him in the field of venture capital. Later, I worked with Jack Gill and Patricia Cloherty, people who are not only brilliant in the investment field and in technology, but highly creative and fun. Learning and working with them will always be one of the highlights of my career. The ability to work, learn, be guided and inspired continues with the talented advisors who work with me, such as Dennis Condon.
How did you get started in the field of aesthetics?
The idea for Dominion was born during a clinical trial in my previous company, Seno. I founded Seno to develop a new device to diagnose cancer which was the first new functional imaging technology developed in over 20 years. For a cancer study, the rate of patient compliance to call backs for a possible cancerous lesion was foremost in the outcome. I used to tease my clinical team that we could inform the resistant patient if they came back that our laser could diminish wrinkles in their décolletage. Of course, this was impossible for a diagnostic device, but the idea intrigued me and it was the seed that led me to create Dominion Aesthetic Technologies. My interest was catapulted when I attended "Plastic Surgery, The Meeting" and I came away with knowledge, ideas, and concepts that are reflected in our product today. I like to say, "I founded my last company to honor my mother and others with cancer and this one I did for my girlfriends."
What advice do you have for women who are rising stars in this industry?
Have passion and tenacity for what you do. If you are in the medical field, you need to have a desire to help others. A drive to understand and create new technology is critical, and a healthy respect for the regulatory bodies in medical device is of upmost importance. A willingness to learn, support, help others and building teams is essential. Never stop enjoying the pleasure and the fun from learning about the industry, and remember with your input we can strengthen our industry and make it even better.
How would your colleagues describe your management style?
I am very much a hands-on person. I start with a vision and a focus. Next comes the gathering of the right people and creating an organization of highly competent team members where all talents are used and all members thrive. Once that is established, I form a Scientific Advisory Committee for guidance and input. KOLs are needed because each company I have founded is based on creating better technology for the physician within the specified field. The new device should offer significant innovation and improvement. In each company, I support the technology with strong scientific data. We operate within a heavily regulated environment but I view this compliance as helpful to young companies. We are in the medical device field and I always want our technology to be the safest, the most effective and the best in the industry.
Name a quote or quotes that best describe your philosophy.
The life of an entrepreneur is not for the faint of heart, and listening to that "different drum" has been my career destiny. The quote by Robert Frost has been a part of who I am all my life: "Two roads diverged in a wood and I-I took the one less traveled by, and that has made all the difference."
A second quote by Winston Churchill resonates with how I see the world:"A pessimist sees the difficulty in every opportunity; an optimist sees