Top 5: Fast Facts on Cosmetic Procedures in 2019 from The Aesthetic Society
Down slightly from 2018, the number of surgical and non-surgical procedures performed by plastic surgeons in the US in 2019 remains significant. The top five non-surgical procedures performed in 2019 by board-certified US plastic surgeons were:
Botulinum Toxin (including Botox, Dysport, Xeomin): 1,712,994 procedures
Hyaluronic Acid (including Juvederm, Voluma, Perlane, Restylane, Belotero): 749,409 procedures
Hair Removal (laser or pulsed light): 180,332 procedures
Nonsurgical fat reduction (including CoolSculpting, Vaser Shape, Liposonix): 129,686 procedures
Photorejuvenation (IPL): 99,740 procedures
The top five surgical procedures in 2019 were:
Breast Augmentation: 280,692 procedures
Liposuction: 270,670 procedures
Breast Lift: 146,711 procedures
Tummy Tuck: 140,381 procedures
Eyelid Surgery: 113,229 procedures.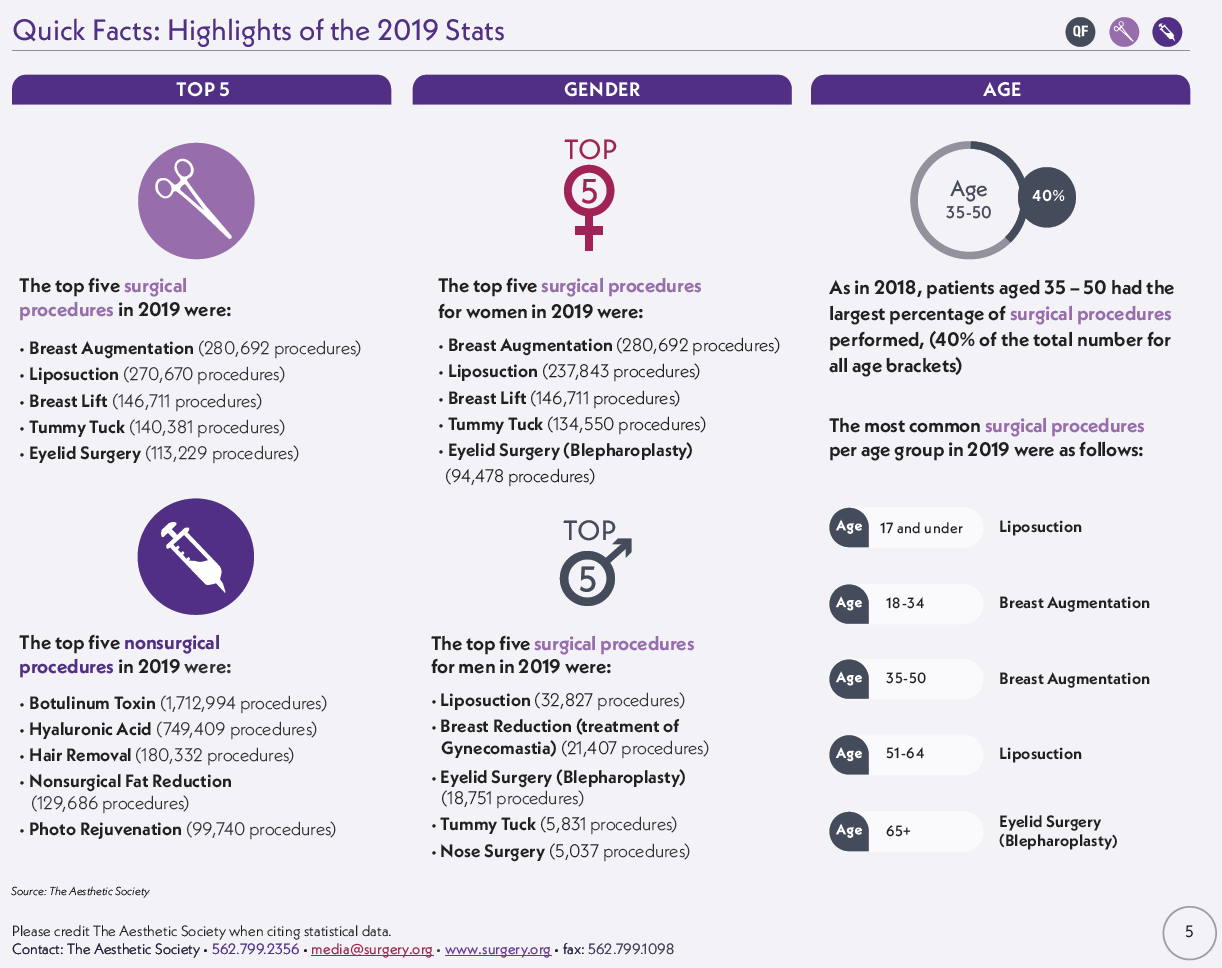 A paper-based questionnaire was mailed to 7,000 plastic surgeons board-certified by the American Board of Plastic Surgery. An online version of the questionnaire was also available. A total of 331 board-certified plastic surgeons returned questionnaires. While surveys were distributed to all domestic, board-certified plastic surgeons, the results may reflect the activities of surgeons who primarily conduct aesthetic surgical procedures. Final figures have been projected to reflect nationwide statistics. Confidence intervals change by procedure, depending on the grouping's sample size and the response variance, though the overall survey portion of this research has a standard error of +/- 5.26% at a 95% level of confidence.
Medscape Physician Compensation Report: Plastic Surgeons Among Top 5 in Physician Compensation
The 2020 Medscape Physician Compensation Report is out, and it shows that plastic surgeons earn $479K per year on average, up two percent from 2019, and ranking as the second highest paid specialty. Dermatologists earn an average of $411K per year, down two percent from 2019.
Fully 55 percent of plastic surgeons and 65 percent of dermatologists report feeling fairly compensated.
This is not to say that earnings have not been hit by COVID-19-related shutdowns. Respondents reported a 55 percent decrease in revenue and a 60 percent decrease in patient volume as a result of the pandemic.
That said, remote patient engagement via telemedicine has increased by 225 percent in 2020, the survey showed.
Male specialists earn more than females—$386K versus $375K, respectively. Just 16 percent of plastic surgeons are women, the survey shows. By contrast, 49 percent of dermatologists are female.
Plastic surgeons report spending 14.2 hours each week on paperwork and administration, and dermatologists spend 13.2 hours on these matters. The specialty that spends the most time on paperwork and administration is critical care medicine, with respondents reporting that they spend 19.1 hours per week on administrative duties. Dermatologists note that 15 percent of their insurance claims are denied and must be resubmitted.
Despite administrative burdens and other hassles, 94 percent of plastic surgeons and 95 percent of dermatologists would do it all again. They rank among the highest of all specialists when it comes to choosing their specialty all over again.
The new survey included 17,461 physicians nacres 30 specialties. Data was collected from October 2019 to February 2020.
Demystified: 5 Tips for Assessing Your Current Insurance Coverage and Improving It for the Future
Jason O'Dell, a financial consultant and insurance specialist at OJM Group, spoke with New Jersey-based dermatologist Jeanine Downie, MD and Chicago facial plastic surgeon Steve Dayan, MD about what to expect from insurance coverage during the pandemic and how to beef up your policies in the future during a recent edition of Coping with COVID-19. To watch the program, co-produced by Modern Aesthetics® magazine and its sister publication Practical Dermatology® magazine, in its entirety, visit ModernAesthetics.com/covid-19.
Here are five take-home messages to help navigate the ins and outs of your coverage during the COVID-19 pandemic. The panel agrees that it is important to work with an insurance agent who regularly works with physicians and has been referred to you by trusted colleagues or has excellent references available.
1. Don't expect to be paid out on a "business interruption" claim.
Most commercial casualty insurance plans have a well-defined exclusion for pandemics. In the future, riders may be available to add such coverage to your plan for a price.
2. Do know that your family will receive death benefits from your life insurance policy if you die prematurely due to COVID-19.
That said, most payers are temporarily postponing the sale of new life insurance policies to individuals of a certain age and/or with pre-existing conditions.
3. Do review your policies.
Use this time to review your existing insurance policies, paying close attention to any known business interruption exclusions such as flooding. Consider adding riders for known exceptions, including sexual harassment and cybersecurity breaches.
4. Do take stock of your possessions.
Take a photo inventory of any devices in your office and send these images to your insurer for a more accurate assessment of your practice's value.
5. Do ask for pro-rated malpractice insurance.
Many malpractice insurers are offering retroactive pro-rating of policies during COVID-19. The same may also be true for auto insurance, as fewer people are driving. It never hurts to ask.