Certain minimally invasive aesthetic procedures including those that are lengthy, take place above the clavicle, and are considered aerosol-generating, may be riskier than others in the post-COVID-19 world and will require enhanced precautions and a slower integration than procedures deemed less risky, according to new guidance on reopening aesthetic practices.
The Project AesCert Guidance, which appears in Facial Plastic Surgery & Aesthetic Medicine and was spearheaded by the Skinbetter Science Institute, takes a multi-disciplinary, soup-to-nuts tack to re-opening aesthetic practices.
The guidance was developed in partnership with experts in infectious disease, immunology, public health policy, dermatology, facial plastic surgery, and plastic surgery. It includes such resources as a Daily Treatment Room Disinfectant Checklist, Common Area Disinfectant Checklist, Wellness Screening Checklist, and Post-Appointment Screening Checklist.
"No one has ever done a re-entry after a pandemic. Most of my colleagues are literally inventing the wheel," says guideline author Jeffrey Dover, MD, FRCPC, co-director of SkinCare Physicians of Chestnut Hill in MA. "The key message is safety for you, safety for your staff, and safety for your patient. These are aesthetic and not dermatologically or medically necessary procedures. We have to set the bar as high as possible."
Some cosmetic procedures can be initiated earlier than others presuming all Project AesCert safety protocols are closely followed. "I'd be very hesitant about performing extended above-the-neck or mouth procedures, but off-face procedures are easier to reintroduce." Dr. Dover says.
Energy-based body contouring procedures require limited in-room contact with the patient once the device has been applied and the procedure has started. Still, providers should wear a three-ply surgical mask, wraparound eye protection, gown, and gloves for all treatments. Patients undergoing body-contouring procedures below the clavicle should be masked throughout the treatment and particularly when a provider or staff member is in the treatment room. "When contouring procedures are performed above the clavicle, consider heightened personal protective equipment, including an N95 mask, goggles, and possibly a face shield," the guidance suggests.

Injections can also be introduced early on as they are quick, unlike other facial and procedures. Patients can remove masks if they are getting injections around their mouth and should receive a new mask after the procedure, the guidance states.
Moreover, certain procedures, such as deeper microneedling, may release blood-borne pathogens, and certain micro- and hydra-dermabrasion procedures are non-respiratory aerosol-generating procedures due to risk of emission of airborne particles or contaminants as a result of device features, according to the guidance.
All aerosol-generating procedures should be performed in designated treatment rooms with appropriate air handling, containment, and evacuation systems. The guidance also calls for pain management through modalities other than cooling fans or handheld cooling devices when possible.
The whole experience will be different than it was in the pre-COVID-19 days, Dr. Dover says. "It's not a social hour like it used to be. Patients get the procedure and they are out," he says. All consultations and screening should be done over the phone in advance. Patients will have their temperature taken when they arrive and will be escorted to a treatment room. Check-in and check-out can take place in the treatment room.
At Dr. Dover's practice, doctors and nurses won't be moving around from pod to pod anymore, either. "If a nurse moves around and gets sick, we have to shut down the entire facility and are back to square one."
The guidance suggests removing chairs and spacing remaining chairs at least six feet apart in waiting rooms or creating "natural" barriers with potted plants or tables to prevent individuals from congregating in one area.
There also can't be in-the-moment upsells or add-on procedures initially. "If the patient is at all concerned, wait a month and revisit the procedure," Dr. Dover advises. "The last thing patients should feel is pressure."
"There was a great deal of uncertainty and a lack of confidence about reopening given the high degree of infectiousness and transmission of severe acute respiratory syndrome coronavirus 2 (SARS-CoV-2)," Jonah Shacknai, Executive Chairman at the Skinbetter Science Institute, says. "The new guidance is unique, because the infectious disease and public health experts came up with protocols based on research and their expertise on the front lines with COVID-19 patients." Mr. Shacknai hopes that the new guidance will go a long way toward assuring patients that aesthetic procedures are safe and that practices are taking their safety very seriously.
"The risk of transmission will be minimized by following this guidance, but it will never be zero," he notes. Practices can show the Project AesCert Guidance logo to indicate they follow these principles.
---
Restylane Kysse FDA Approved
The FDA recently approved Galderma'a Restylane Kysse for lip augmentation and the correction of upper perioral rhytids in adults over the age of 21. Restylane Kysse is the first hyaluronic acid (HA) filler specifically indicated for the lips using XpresHAn Technology globally referred to as the OBT technology (Optimal Balance Technology). According to Galderma, Restylane Kysse is proven to last for up to one year with high levels of patient satisfaction for people with lips that have changed due to the aging process or for those seeking natural-looking, fuller lips.
XpresHAn Technology products have demonstrated natural-looking results for patients with dynamic facial wrinkles, the company reports. Restylane Kysse uses this technology to provide high levels of patient improvement with 78 percent of trial patients reporting they were still satisfied with their results after one year. A lower amount of Restylane Kysse (1.82 mL) was needed to show an improvement in lip fullness compared to the comparator (2.24 mL) in the Phase 3 trial. Restylane Kysse was shown to be both safe and well-tolerated. It contains lidocaine, a medication used to numb the area to decrease pain and reduce discomfort associated with injections in the lip area.
The company says it is working to determine the appropriate launch timing and availability for Restylane Kysse. See My New Favorite Thing on page 18 for more on Restylane Kysse.
---
It's a Deal: AbbVie Completes Acquisition of Allergan
AbbVie completed its acquisition of Allergan plc. In connection with the closing of the transaction, the AbbVie Board of Directors has elected Thomas C. Freyman, retired Executive Vice President and Chief Financial Officer, Abbott, to join the AbbVie board. Mr. Freyman recently served on the Allergan Board of Directors.
"We are pleased to reach this important milestone for the company, its employees, shareholders and the patients we serve," says Richard A. Gonzalez, chairman and chief executive officer, AbbVie. "Our new Allergan colleagues should be commended for all their efforts, along with those of our own employees, to achieve this turning point for our Company. The new AbbVie will be a well-diversified leader in many important therapeutic categories, with both on-market and pipeline assets, and our financial strength will allow us to continue to invest in innovative science and continue to serve unmet medical needs of patients that rely upon us. I am proud of both organizations and look forward to the opportunities ahead."
The transaction significantly expands and diversifies AbbVie's revenue base and complements existing leadership positions in Immunology, with Humira, and recently launched Skyrizi and Rinvoq, and Hematologic Oncology, with Imbruvica and Venclexta. Allergan provides new growth opportunities in Neuroscience, with Botox Therapeutics, Vraylar and Ubrelvy and a global aesthetics business, with leading brands including Botox and Juvederm.
---
Revance to Acquire HintMD
Revance Therapeutics, Inc. has acquired HintMD, a financial technology platform for the aesthetics industry.
Revance has agreed to pay HintMD's shareholders a total of 8.54 million shares of Revance common stock, subject to customary adjustments provided in the acquisition agreement. The transaction is expected to close in the third quarter of 2020.
HintMD's platform includes:
Vertically Integrated Payments Platform. As both an authorized payment facilitator (PayFac) and payment processor, the HintMD platform can process a broad range of practice transactions. By doing so, the HintMD platform streamlines the patient checkout process and provides visibility into practice analytics and trends that are not available with traditional credit card processors or legacy systems that sit outside the normal workflow. Additionally, the HintMD platform enables secure, contactless patient checkout and seamless point-of-sale processing, particularly relevant in today's COVID-19 environment.
Patient Subscriptions and Loyalty Programs. The HintMD platform enables personalized subscription treatment solutions with recurring billing programs and patient wallet technology to facilitate flexible payment options. Subscription programs have demonstrated improved patient treatment compliance and practice economics. The open nature of the HintMD platform allows practices to offer their own patient loyalty programs and integrate existing brand rewards plans, while also facilitating third-party transactions, thus lowering administration time, enabling easier access of rewards, and improving payment reconciliation.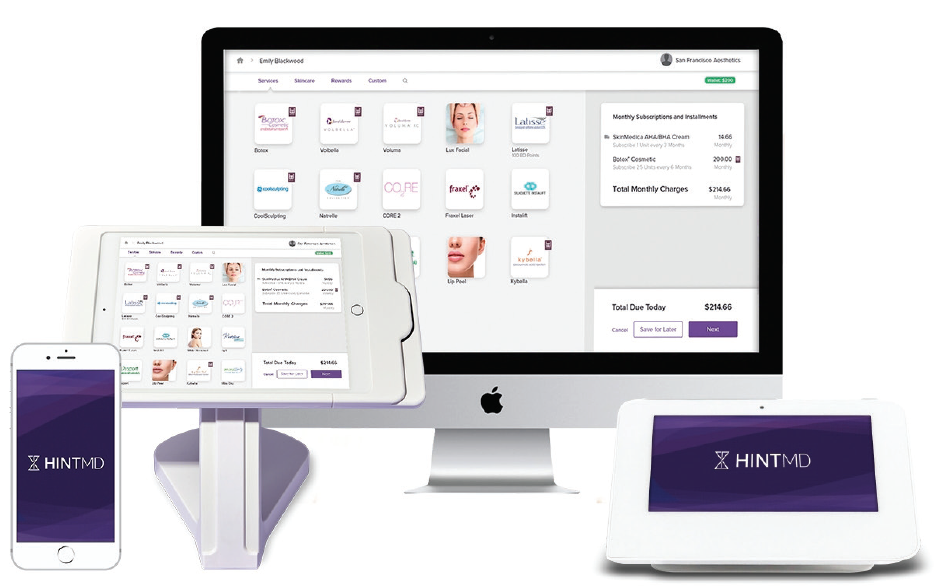 The transaction will allow Revance to provide aesthetic practices with both premium products and services, enabling them to deliver a "prestige" experience to their patients.
"The strategic acquisition of HintMD would augment Revance's strong aesthetics product portfolio with an innovative fintech platform to transform both the practice and patient experience and deliver real value," says Mark Foley, President and Chief Executive Officer of Revance, in a news release. "This transaction could grow our total U.S. aesthetics market opportunity to more than $2.6 billion, which we believe we can access through our planned commercial infrastructure. Marketing the HintMD platform, in combination with the RHA Collection of dermal fillers and our investigational neuromodulator product, DaxibotulinumtoxinA for Injection, upon approval, would position us as a true industry innovator. We're creating a compelling aesthetics franchise comprised of next-generation products and digital services designed to improve office efficiency and profitability, while also enhancing patient engagement and retention. In tandem, we're also advancing our therapeutics pipeline, with two significant topline clinical trial results in the second half of the year. We look forward to completing this acquisition and offering both product and digital service innovation to customers."
"We're delighted that HintMD will be joining the Revance family upon completion of this acquisition," adds Aubrey Rankin, CEO and Co-Founder, HintMD. "We created the HintMD platform to provide a seamless, simple and smart payment solution that empowers modern dermatology and plastic surgery practices to improve office management, analytics and economics. We also aim to elevate the patient experience, providing aesthetic practices with unique subscription and loyalty programs that increase patient engagement, treatment compliance, and satisfaction. Our team's mission has always been to focus on delivering a win-win solution to our physician customers and their patients, which is core to the DNA of the Revance team. We look forward to working together with Revance, and their impressive portfolio of premium injectables, to create a highly synergistic and competitive offering for aesthetic practices."
---
New Aesthetic Society Survey Notes Drop in Breast Augmentation Surgery, Rise in Explantation
There was a 15 percent decrease in breast augmentation surgery in 2019, according to new statistics from the Aesthetic Society. What's more, breast implant removal increased by 34.4 percent in 2019. These statistics are likely driven by concerns about breast implant associated-anaplastic large cell lymphoma.
To that end, The Aesthetic Society has launched new efforts to educate patients who have had or are exploring breast implant surgery.
The Aesthetic Surgery Education and Research Foundation (ASERF) is the research arm of The Aesthetic Society. ASERF identifies and pursues issues relevant to the advancement and safety in aesthetic medicine. Recently, ASERF awarded a significant research grant towards a pilot study to identify a genetic predisposition to BIA-ALCL.
In addition, "Aesthetic One -The Patient App" is a mobile platform developed through support from Allergan. It empowers patients—facilitating two-way doctor-patient communication and acquiring essential data related to breast implant patients. The app is under development and will be available to patients in fall 2020.
A new patient decision aid (PDA) will support prospective breast implant patients with the critical education needed to provide informed consent. The Aesthetic Society's PDA is designed for use throughout the consultation and informed consent process to assist in shared decision-making. It is structured to help prepare patients for each decision point before breast augmentation surgery and during the lifespan of the breast implant.
---
FDA Clears Bimini Health Tech's Dermapose Fat Harvesting System
Bimini Health Tech's received FDA 510(k) clearance for its Dermapose Access, a novel fat harvesting system.
Designed for office use, the launch of the Dermapose Access system creates a new product category focused on simplifying fat removal. Dermapose Access can be used in an office with only local anesthesia. Dermapose Access complements the FDA cleared Dermapose Refresh microfat transfer system.
"Dermapose Access overcomes one of the most challenging parts of fat transfer, safely removing fat," says Brad Conlan, CEO of Bimini Health Tech. "The product creates a totally controlled micro-environment for fat removal."
---
Dysport: Patients Highly Satisfied with Twice-Yearly Treatments
Topline results of DREAM (Dysport Real-world Evaluation and Measured satisfaction study), a clinical study of Dysport (abobotulinumtoxinA) for injection, showed that 95 percent of patients treated with Dysport achieved high levels of satisfaction with two treatments per year, according to Galderma. The study also found 97 percent of patients thought the result of the treatment looked natural. Dysport is a prescription injection for temporary improvement in the look of moderate to severe frown lines between the eyebrows (glabellar lines) in adults less than 65 years of age.
"As a physician in practice for nearly two decades, I have many long-standing patients who come in for retreatment with neuromodulators every three to four months. In the DREAM study, we were interested in evaluating patient satisfaction with a regimen in which Dysport was administered on a twice-yearly schedule," says Joel L. Cohen, MD, a board-certified and fellowship-trained dermatologist and Director of AboutSkin Dermatology and DermSurgery in Colorado, and an investigator for the DREAM study. "We were encouraged to find in this Phase 4 study that close to 100 percent of patients were satisfied or highly satisfied with the aesthetic results of treating the lines between their eyebrows every six months for a year with Dysport. These top-line results suggest that aesthetic specialists can feel confident administering injections that match patient goals of treatment efficacy from every three to four months to a twice-yearly schedule."
---
Under Control
DAVinci Plastic Surgery Center has devised a multi-step strategy to handle the COVID-19 crisis and care for its patients. The staff, including Katherine Long-Lijoi, MS, Ximena Pinell, MD, and Steven Davison, MD, FACS, provides the PDF below as a resource for other practices.
Katherine Long-Lijoi, MS is the Clinical Research Director at DAVinci Plastic Surgery, a leading Plastics and Reconstructive Surgical Center in Washington DC.
Ximena Pinell, MD is a double board-certified plastic surgeon at DAVinci Plastic Surgery Center, who practices aesthetic surgery of the face, breasts, and body, as well as complex reconstruction following surgery to treat skin, breast, and other cancers.
Steven Davison, MD, FACS is Principle Surgeon at DAVinci Plastic Surgery Center and one of the only triple board-certified surgeons in the Washington, DC area.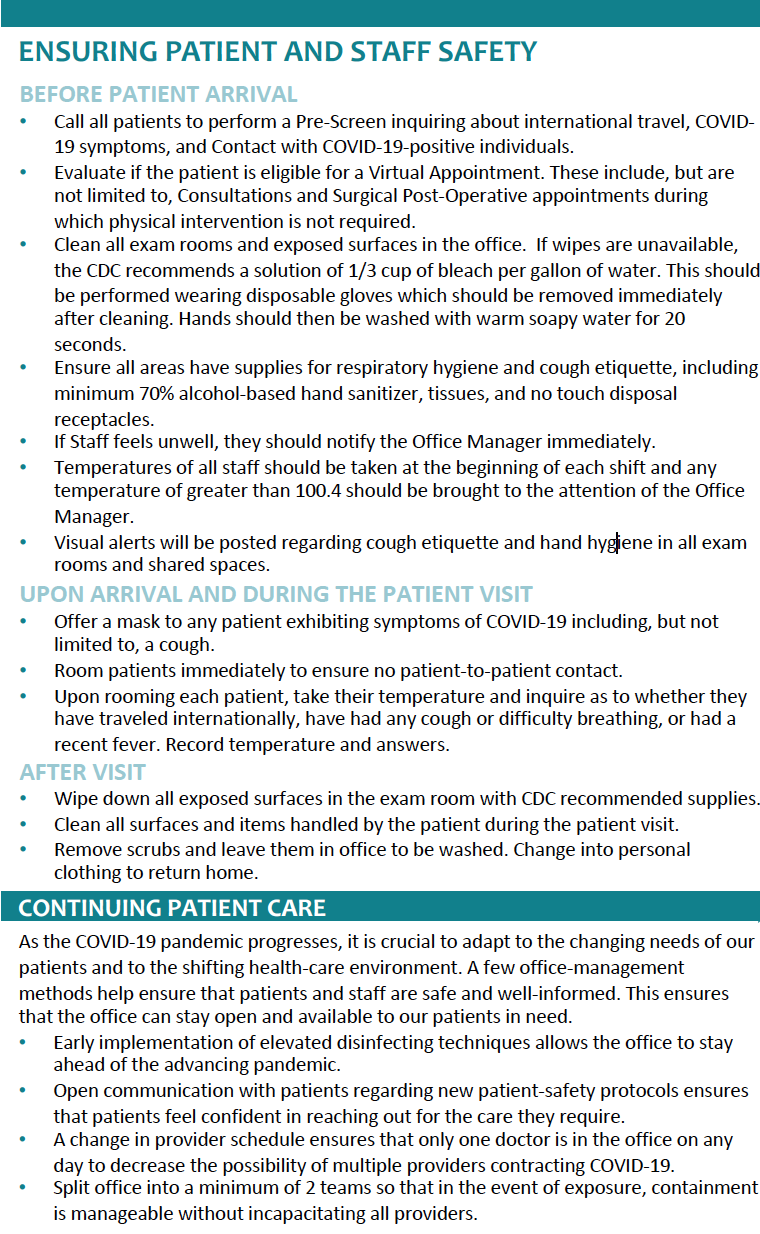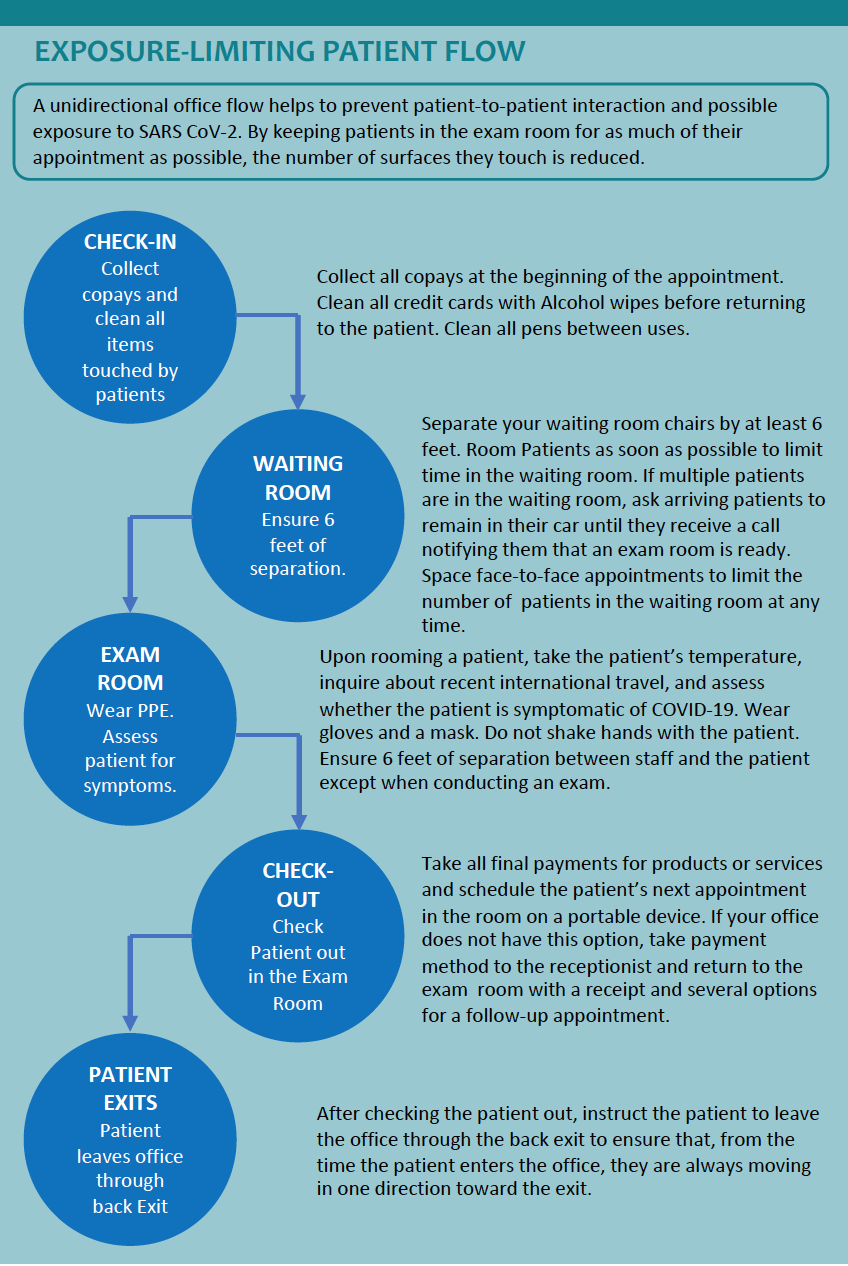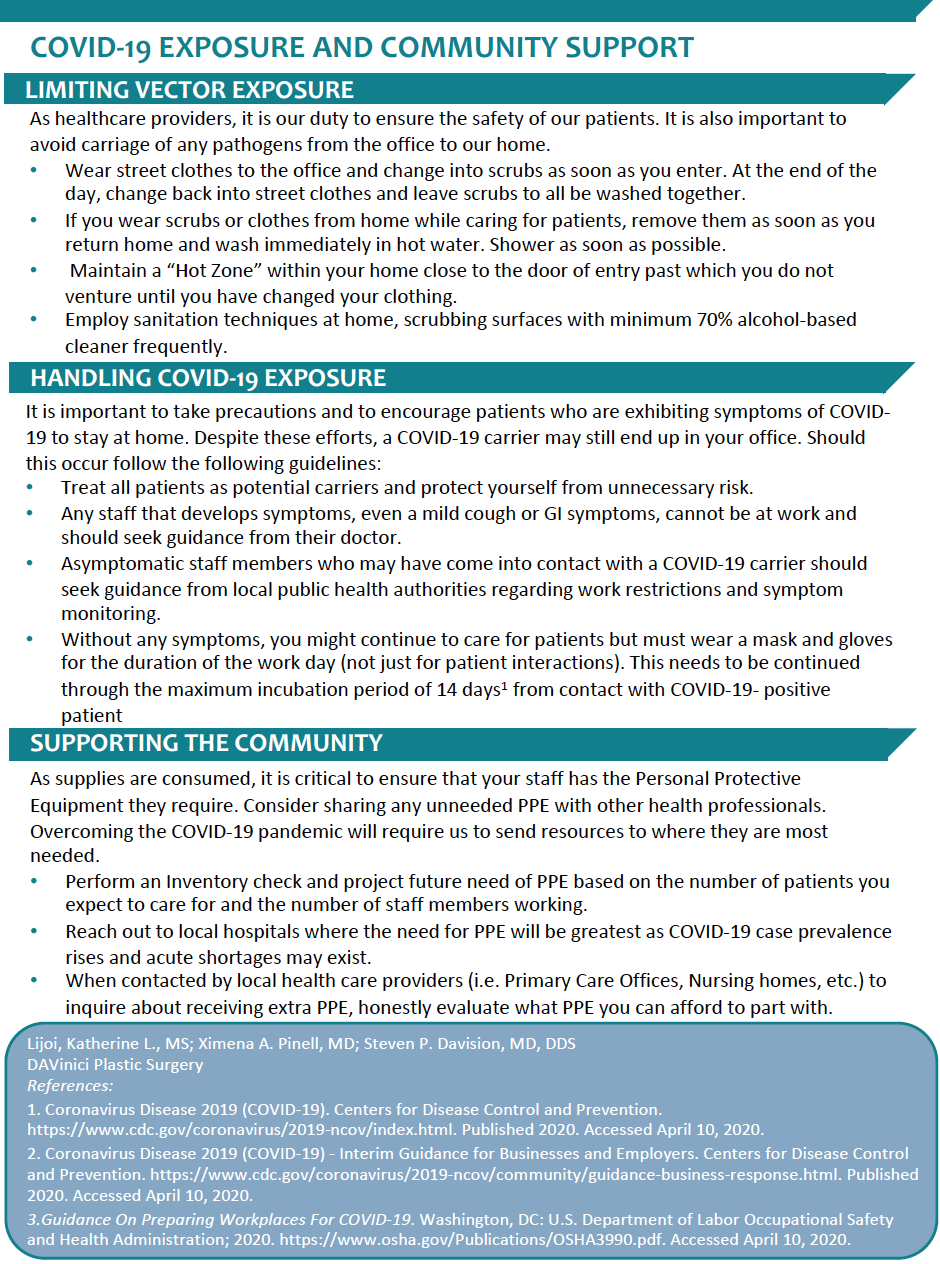 ---
Pilot Study Demonstrates Benefits of Topical NO Serum for Aging Skin
A patent-pending topical Nitric Oxide serum may boost circulation and pro-fibroblastic-enhancing capabilities when used alone and improve absorption when combined with other products, according to a pilot study in the Annals of Plastic and Reconstructive Surgery.
Twenty-five patients used Pneuma Nitric Oxide's N1 O1 serum, a patent pending NO generating dual chamber mixing serum for 12 weeks.
Sixty-five percent of patients noticed a decrease in visible wrinkles at four weeks, 70 percent by eight weeks, and 87 percent by 12 weeks. Decreased pore size was reported by 50 percent at four weeks, 61 percent at eight weeks, and 65 percent by 12 weeks, the study showed. An increase in skin tone was perceived by 70 percent at four weeks, 82 percent at eight weeks, and 85 percent by 12 weeks. Improved skin texture was noted by 72 percent at four weeks, 81 percent by eight weeks, and 88 percent by 12 weeks.
Decreased pigmentation was noticed by 50 percent at four weeks, 62 percent at eight weeks, and 75 percent by 12 weeks. Decreased skin oiliness was noted by 70 percent at four weeks, 75 percent by eight weeks, and 83 percent by 12 weeks. Unwanted vasculature such as telangiectasia or rosacea-related erythema was improved in 51 percent by 12 weeks, the study found. By 12 weeks, 84 percent of patients were "Extremely Happy" with their results.
My New Favorite Thing: Galdmera's Restylane Kysse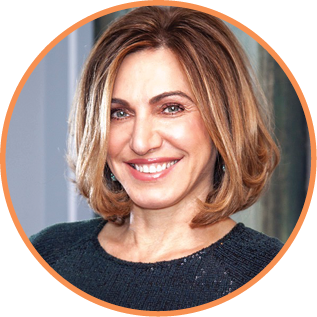 "The lipstick effect is a term that was coined during the Great Depression. Lipstick was one of the most purchased products, because women were looking for a way to feel beautiful in a time where people were struggling to keep their spirits up. Right now, with COVID sweeping the globe, women are at home and wearing less makeup than ever before but all this extra time has given them the ability to experiment with skincare, putting the focus on flawless skin and natural beauty. When dermatologist offices start to reopen, I think we will see that the lip filler is going to be this time period's version of lipstick; everyone is going to be looking for ways to enhance their features without makeup. The newly approved Restylane Kysse is the best product for a natural looking lip augmentation and adds volume, smoothness, and color so women don't need to wear makeup to get a full, rosy pout.
As an expert injector I would often need two different products when doing lip augmentations, one for volume and another to fill fine lines, meaning that I would need to use more product to achieve the desired results. With Restlyane Kysse, I can use less product to both give fullness and smooth out lines around the lip area.
Built for lips with brand new XpressHAn Technology, Restylane Kysse provides an ideal balance of flexibility and support for a natural feel. Results have been proven to last for up to a year, making it the longest lasting filler on the market. Clinical studies showed that significant percentages of patients found the filler to be natural looking, sexy, and kissable, with an approval rate of 9 out of 10.
When using Restylane Kysse I notice less swelling than with other fillers, and I love how it can be used on patients of all ages. This product has the ability to do it all and is the future of lip filler."
Marina I. Peredo, MD is
Suneva: Exclusive North American Distributor for Silhouette Instalift Sutures
Suneva Medical, Inc. is the exclusive North American distributor for Sinclair Pharma's Silhouette Instalift sutures.
"We are excited to welcome Silhouette Instalift to our already broad regenerative aesthetics portfolio," says Pat Altavilla, CEO, Suneva Medical, in a news release. "These unique sutures fit perfectly as they can provide immediate lift to sagging cheeks and, like Bellafill, can activate the patient's natural collagen production over time."
---
Aesthetic Society Names New President, Executive Board
Herluf G. Lund, Jr., MD, FACS, a plastic surgeon in St. Louis, is the new President of The Aesthetic Society.
Dr. Lund and his leadership team will focus on guiding membership through the COVID-19 crisis and completing a number of critical projects in development including:
The Aesthetic Society's Recommendations for Reopening Office and Resuming Elective Procedures: The Aesthetic Society's COVID-19 Safety Task Force has worked diligently to develop recommendations to help membership reopen their practices and carefully resume elective procedures.
"Aesthetic One - The Patient App": Developed through support from Allergan, the mobile platform is designed to empower patients— facilitating two-way doctor-patient communication and acquiring essential data related to breast implant patients. The apps are under development.
Aesthetic Neural Network (ANN): designed by and tailored to aesthetic plastic surgeons— ANN empowers surgeons with a new way to look at a practice's data. ANN goes beyond standard reporting available from a practice management system.
The Aesthetic Society Website: the Society's rebranding efforts and new website will improve both member engagement and public education, simultaneously modernizing the user experience in Summer 2020.
Other new Aesthetic Society officers serving on the Executive Committee include President-Elect William P. Adams, Jr., MD; Vice President Jennifer Walden, MD; Treasurer Melinda J. Haws, MD; and Secretary Kiya Movassaghi, MD, DMD, FACS.
Luis Rios Jr., MD, a plastic surgeon practicing in Edinburg, TX, is the new president of The Aesthetic Surgery Education and Research Foundation (ASERF), the philanthropic research and education arm of The Aesthetic Society.