1. It's Not About Chasing Lines
We can improve the appearance of wrinkles and folds by directly volumizing the area, but this does not always result in natural looking results. It is important to respect anatomical balance when using injectable fillers and understand the way facial structures change during the aging process. A thorough understanding of the underlying causes of facial wrinkles and folds can revolutionize the approach to treating them. Facial harmony can easily be lost, and treatments could yield unnatural looking results if we continue to simply chase wrinkles and folds instead of addressing their underlying cause. For example, patients often come in complaining of nasolabial folds, but a comprehensive patient assessment looks beyond this complaint to see the changes in the face that led to the nasolabial fold. We can often improve the appearance of a nasolabial fold by volumizing the midface and cheek area, restoring the lost structure that led to the descent of the fat pad that causes a nasolabial fold. Working to restore lost facial volume and re-drape facial folds in this way can not only improve the nasolabial fold, but also improves the appearance of other anatomical features in the midface and periorbital area, ultimately achieving a better overall outcome.
It is important to take time to educate patients about the way their face ages so they understand which treatments are best for them and why. This concept becomes particularly important as we begin treating younger patients looking to use injectable fillers to maintain their facial volume in efforts to prevent the formation of wrinkles and folds with prejuvenation. Providing the patient with a global facial assessment and addressing the process of the aging face can set you apart from other injectors, help to grow trust from patients, and provide patients with better results.
2. It's All About Biostimulation
Using injectable fillers for biostimulation is nothing new to aesthetics, but many are revisiting this concept to go beyond the volumizing effects of injectable fillers. Using injectable fillers to stimulate the production of collagen and elastic fibers can expand the purpose of injectable fillers to include aesthetic concerns, such as photodamaged skin, crepey skin, skin laxity, striae, cellulite, and acne scars. These types of concerns have historically been difficult to address. Treatments have been attempted with surgery, subcision, laser resurfacing, microneedling, radiofrequency, microfocused ultrasound, peels, and topicals. Many of these procedures can yield excessive downtime, costs, and discomfort for patients with variable outcomes. The use of biostimulating injectable fillers for these difficult-to-treat concerns can potentially be done with less downtime and cost as compared to other treatment modalities. Ultimately, combination therapies and repeat treatments can often provide enhanced results, and injectable fillers can readily be combined with other procedures. The use of biostimulating injectable fillers, such as poly-L-lactic acid (Sculptra) and calcium hydoxylapatite (Radiesse), for biostimulation has grown in popularity and many are using off-label dilutions of these injectables to achieve biostimulation with or without volumizing effects. Clinical trials need to be done to further investigate the role for using biostimulating injectable fillers for a variety of indications on the face and on the body. It will take further experience and research to determine the optimal treatment protocols and to understand how these treatments could potentially work in combination with other treatment modalities.
3. Think About Hydration
Hyaluronic acid is a critical component to skin hydration, and many have attempted to increase hyaluronic acid levels in the skin with topical formulations. However, the effectiveness of topical hyaluronic acid remains controversial, and it is unclear if topical hyaluronic acid formulations can adequately penetrate the skin as some claim they do. Subdermal injections of hyaluronic acid fillers can create volume, but can intradermal injections of hyaluronic acid be used to improve skin quality and skin hydration?
This concept is catching a lot of attention as many injectors turn to hyaluronic acid fillers for skin-boosting treatments. Intradermal micro-injections of hyaluronic acid fillers for this purpose is growing in popularity, especially as the available types of hyaluronic acid fillers with the appropriate rheology for intradermal injection become increasingly available on the US market. Skin-boosting hyaluronic acid filler treatments have been more common outside of the US where a larger variety of suitable injectable fillers are available. These skin-boosting treatments can help to improve skin quality (texture, hydration, elasticity) and may help to increase the production of hyaluronic acid, collagen, and elastin in the skin.
Dr. Black discussed filler innovations for a video series from our sister publication Practical Dermatology® magazine.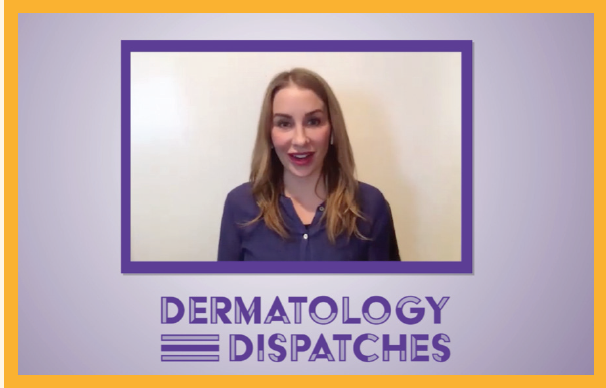 Watch now to learn more: PracDerm.com/Dispatches20
Superficial intradermal injections can be done with little downtime and can potentially provide almost instantaneous results. It is no wonder that these treatments have been growing in popularity. However, more extensive research with controlled clinical trials needs to be done to further investigate best practice protocols and the long-term outcomes of such treatments. With limited options of injectable fillers for this use on the US market, the highly anticipated launch of new products for this purpose will likely help to expand the practice of skin-boosting treatments in the US.
4. Anatomy Matters
As the use of injectable fillers is quickly growing in popularity, we also see an increase in complications from injectable fillers. Complications can happen to anyone, even the most skilled and experienced injectors and remains an inherent risk to these procedures. Complications can range from mild transient bruising and swelling to catastrophic cases of vascular occlusion and blindness. Given the severity of the risks involved with injectable filler treatments, it is vital to do everything possible to avoid complications and utilize safe protocols while performing injections. To help minimize risks, it is crucial to have a comprehensive understanding of facial anatomy. Educational opportunities to review and teach pertinent anatomical structures have been increasingly available. Academic conferences have been including hands-on training sessions, demonstrations of cadaver dissections, and anatomy teaching sessions. Industry sponsored training sessions for injectable fillers are also highlighting anatomy and safety precautions in their teaching platforms. Technical advancements have helped to develop teaching modules aimed to provide more realistic visuals of facial anatomy. An in-depth understanding of facial vascularization can help injectors better understand how injection techniques can be modified to decrease the risk of vascular occlusion. A better understanding of facial structures and compartments can also help injectors improve their skills. Injectors of all levels can benefit from newly available teaching opportunities to review facial anatomy.
It is important to respect anatomical balance when using injectable fillers and understand the way facial structures change during the aging process. This is essential to avoid complications and to achieve natural results. No longer "chasing lines," injectors can restore volume and even improve skin hydration. The use of biostimulating injectable fillers is also growing.
5. There's More to Come
This is an exciting time for injectable fillers. We can expect to see more injectable fillers available on the US market with an expanded range of rheological properties and indications. US industry leaders have made huge investments in clinical trials to obtain FDA approvals for novel fillers and new indications for many injectable fillers already available in the US. These newly available products will help to grow the market and give injectors advanced tools to achieve optimal outcomes. An expanded range of indications for existing products will allow for more teaching opportunities on injection techniques that were previously limited due to their off-label nature such as the use of cannulas. Indications for new treatment areas, such as the temple, tear trough, jawline, and chin, could help to advance our approach to injectable fillers. More indications can also allow for a broadened range of advertising and patient education opportunities.
Increased direct-to-patient marketing to include more treatment areas and techniques can help to drive more patients into offices and help to initiate higher level treatments. Ultimately the clinical trials aimed to gain new FDA approvals for injectable fillers also enhances our understanding about these procedures and add to necessary patient safety data. This is great news for both patients and injectors. With so many developments in the world of injectable fillers it will be prudent for injectors to stay updated on new advancements and publications, educate themselves on newly available products, and take advantage of upcoming teaching opportunities. In order to stay up-to-date and relevant in a field that is constantly evolving injectors must commit to continuous learning and education.