Plastic Surgery Coding Book Available
According to the American Society of Plastic Surgeons, The Plastic Surgery Coding Guidebook was developed exclusively for those who code for plastic surgery as a comprehensive resource. It includes the 2020 CPT code set specific to plastic surgery in an easy-to-use format. Each CPT code includes its official description, national Medicare Relative Value Units (RVU) and Global Service Period along with coding tips and reference to ASPS Coding Corner articles for additional information. Highlights include CPT coding for Breast, Skin Lesions, Wound Care, Scar Revision, Fractures, Cosmetic Surgery and much more. You can also find valuable information regarding modifiers, place of service codes, global period service visits and National Correct Coding Initiative (NCCI) and Medically Unlikely (MUE) edits. This resource also features coding changes for 2020 including the new codes for fat grafting procedures and updated definitions for intermediate and complex repair of lacerations and wounds.
Industry Response to COVID-19
The COVID-19 pandemic has disrupted practices and business. As the situation continues to evolve, the aesthetic industry is responding. Vist ModernAesthetics.com/COVID-19 for continuing updates on what many companies are doing. Here's a brief look at what a few are doing:
Allergan. Of the approximately $13 million in charitable grants the Allergan Foundation has awarded in 2020, a total of $2 million will be dedicated to more than 70 organizations responding to the local impact of the COVID-19 pandemic. Other grant recipients include initiatives supporting Mental Health, Eye Care, and Breast Health, Allergan says. The Allergan Foundation has donated a total of approximately $108 million in its 22-year history to.
AG Hair. As COVID-19 escalates in Canada, AG Hair has shifted full focus to hand sanitizer production with the goal of supporting health organizations like Vancouver Coastal Health and the Government of Canada during a time of mass sanitizer shortages. The company will also leverage its extensive global manufacturing contacts to source badly needed medical supplies like N95 surgical masks, disposable gloves and other personal protective equipment that meet Health Canada and other recognized health standards.
DermYoung. Skincare company, DermYoung has launched an initiative with medical spas to donate personal protection equipment (PPE) to local hospitals including Massachusetts General Hospital.
Coty. Kris and Kylie Jenner are joining forces with Coty, majority stakeholder of Kylie Cosmetics and Kylie Skin, to produce hand sanitizers for hospitals in Southern California. The hand sanitizers will be donated to the emergency and healthcare workers caring for patients on the front lines of the current COVID-19 public health crisis.
RealSelf. RealSelf is partnering with Bluestone Sunshields to support efforts to produce and distribute protective eyewear to medical professionals in Los Angeles, New York City, and Seattle as area hospitals face shortages due to the COVID-19 pandemic. RealSelf has pledged $10,000 to support the production of 2,000 safety glasses and full-face shields and aims to raise an additional $20,000 in donations in order to provide a total of 6,000 pieces of protective equipment to medical professionals.
e

-Consults Expansion: HHS OCR Issues New HIPAA Guidance

Practices that haven't contracted with a telehealth platform may still be able to provide virtual consults using standard telecommunications technologies throughout the COVID-19 pandemic.

The Office for Civil Rights (OCR) at the Department of Health and Human Services (HHS) says that the COVID-19 national emergency constitutes a nationwide public health emergency. OCR says it "will exercise its enforcement discretion" regarding HIPAA violations associated with good faith provision of telehealth during the COVID-19 nationwide public health emergency.

OCR says that covered entities, "can use any non-public facing remote communication product that is available to communicate with patients…This exercise of discretion applies to telehealth provided for any reason, regardless of whether the telehealth service is related to the diagnosis and treatment of health conditions related to COVID-19."

Under this new, temporary guidance, OCR says platforms such as Apple FaceTime, Facebook Messenger video chat, Google Hangouts video, or Skype are acceptable, while Facebook Live, Twitch, TikTok, and similar video communication applications that are public facing are not.

Alissa Smith, a partner at the international law firm Dorsey & Whitney and co-chair of its Health Transactions and Regulations Practice Group, says the announcement is, "very welcomed by the provider community…Providers have been anxiously seeking guidance from the Office for Civil Rights that will allow them easier access to treat patients and an easier and faster ability to communicate with colleagues outside of their own health system in order to make real time/rapid differential diagnosis communications, including sharing data and images with peers."

Ms. Smith notes that HIPAA waivers have been made available to health care providers. "First, the Secretary of the Department of Health and Human Services (HHS) has issued limited HIPAA waivers to hospitals. The waivers are retroactive to March 15, 2020. See the HHS HIPAA waiver document here. We addressed the possibility of these waivers in our earlier post, available here, along with a summary of some of the main HIPAA laws already in place which may be helpful to covered entities and business associates during this time of national and public health emergency," Ms. Smith says.
WATCH NOW
Coping with COVID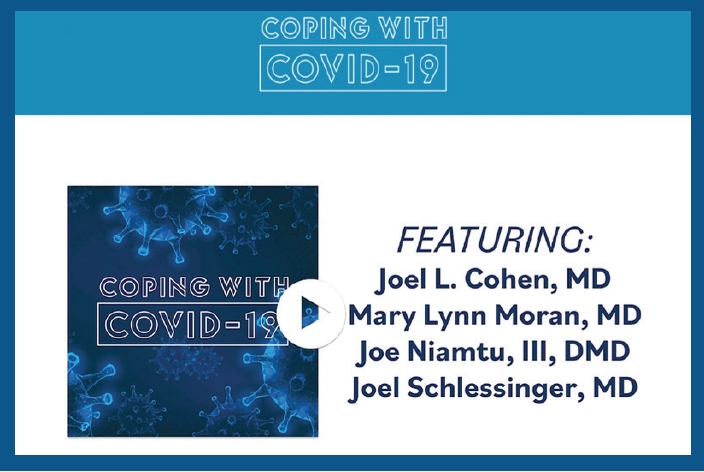 What can dermatologists, plastic surgeons, facial plastic surgeons, and others in the aesthetics specialties do to support the response to the COVID-19 pandemic? In the first episode of our new series, Coping with COVID-19, experts discuss how to donate supplies, PPE, and even ventilators. They address the potential role of core specialists in addressing this unfolding health crisis. Click the image to watch now and watch the full series for telemedicine tips, financial and insurance considerations, and more.
"The HIPAA waiver document starts by reminding covered entities and their business associates that, in general, the HIPAA rules are not suspended during this time of a national and public health emergency," Ms. Smith adds. "In particular, addressing a topic of much discussion among providers, the guidance includes a reminder that the HIPAA security safeguards rules (mandating reasonable administrative, technical and physical safeguards) apply to uses and disclosures of electronic protected health information as always. This statement is a reminder to health care providers of their obligations to use appropriate safeguards when using or disclosing protected health information."
Ms. Smith says the OCR announcement of enforcement discretion, "is particularly refreshing for health care providers who have been anxiously seeking easier methods, such as the use of personal devices and specific technologies, to interact via audio and/or video technologies with their patients and colleagues." But she offers some words of caution.
"The OCR encourages providers to notify their patients that these third-party applications potentially introduce privacy risks," Ms. Smith says. "Providers should also take as many security precautions as possible to protect patient information such as enabling 'all available encryption and privacy modes when using such applications,' and having these conversations in private spaces to avoid others who are not involved in the patient's care overhearing the communication.
"Further, even if a provider is using 'everyday communications technologies,' providers should take care to record the interactions in the patient's medical record to ensure that patients' records are complete and accurate."