The FDA Approves Endo's Qwo: an entirely new way to address cellulite
Endo Aesthetics' Qwo (collagenase clostridium histolyticum-aaes) is the first injectable treatment for moderate to severe cellulite of the buttocks in adult women. When fat in cellulite-prone areas swells and expands, the septae tether the skin, which causes cellulite. Qwo targets and lyses collagen tethers to release the skin dimpling and smooth skin.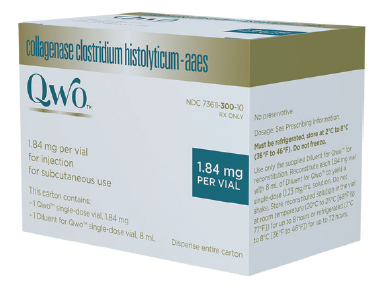 Qwo is expected to be available throughout the US at aesthetic healthcare practitioners' offices starting in Spring 2021.
"The approval of Qwo will forever transform the landscape of treating cellulite," says Sachin Shridharani, MD, a Qwo clinical investigator and plastic surgeon in NYC. "To date, there has never been an FDA approved drug in an injectable form to treat this complex and concerning aesthetic condition."
More than one treatment will be needed for maximum results, he says. "Three treatments, 21 days apart are recommended."
Side effects of Qwo include injection site bruising, pain, areas of hardness, and itching in the treatment area. "Do no treat one week prior to a beach vacation," Dr. Shridharani advises. "The benefit of Qwo will not be noticeable at one week and the patient may still have residual and resolving ecchymosis leading to early dissatisfaction which is preventable with understanding the patient's goals and timelines."
Allergan Donates $300K to Bridge the Gender Gap in STEM
Allergan has pledged $300K to support STEM Education through their partnership with Girls Inc.
In addition to the donation, Allergan is also offering mentoring initiatives and resources to educate and empower future female leaders interested in STEM by enlisting female physicians across the country to mentor young women in high school.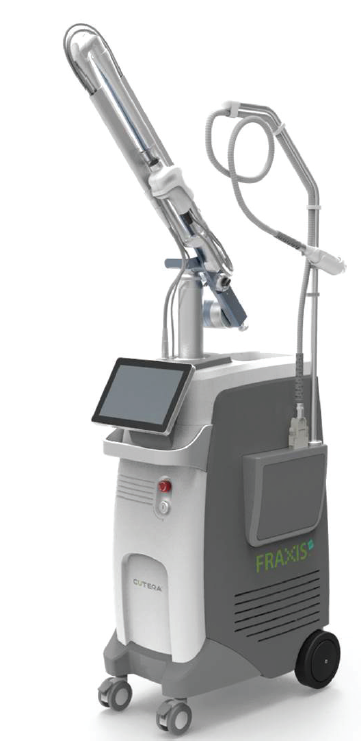 As part of this mentoring initiative, female physicians will be engaging with these girls via virtual panel discussions to offer insights, expertise, and tools for the girls to learn from as they apply to college, develop personal and career goals, and explore opportunities in the healthcare, science, and medical fields.
These virtual events will be taking place throughout the summer and beyond.
"It's an honor to be a part of Allergan's mentoring program with Girls Inc. and have the opportunity to mentor young women that have dreams to achieve future careers in healthcare, science, and technology," says Jeanine Downie, MD, founding director of image Dermatology in Montclair, NJ. "I've been lucky to have a diverse group of creative, powerful, and bold women as my mentors, who have helped me build the confidence to get to where I am in my career. With Allergan, I look forward to continuing to provide the young women of Girls Inc. with the advice, guidance, and resources to be a female leader in this industry. That is something that my mother, a pediatrician, would tell me requires women having to work twice as hard as men."
New from Cutera: Get to Know Fraxis PRO
Cutera, Inc. is launching Fraxis PRO progressive dermal remodeling technology. The Fraxis PRO combines fractional CO2 for skin resurfacing and radiofrequency microneedling for dermal remodeling in a single device to treat fine lines, wrinkles, scars, and stretch marks.
"The greatest thing about the system is that it delivers the best of both worlds for skin remodeling," says Ashish C. Bhatia, MD, FAAD, Associate Professor of Clinical Dermatology Northwestern University, Feinberg School of Medicine in Chicago. "Whether you're treating deep acne scars, just looking for a little firming or a micro peel, Fraxis PRO gives the flexibility to treat all kinds of patient needs."
With two headpiece sizes for each modality, Fraxis PRO is able to treat the entire face and body. The Fraxis PRO treatment types can be used alone or in concert based on patient needs and downtime tolerance.
Take Five: REvance's Dustin Sjuts
Making headlines the past several months, Revance is now looking forward to a busy second half. Dustin Sjuts, Chief Commercial Officer, spoke to Modern Aesthetics® magazine about the company.
1. It's a catalyst-rich year for Revance.
Among what Mr. Sjuts calls, "multiple transformational events," in 2020, the company signed a distribution agreement with Teoxane SA, gaining exclusive rights to the RHA Collection in the US. "Shortly after, we were notified by the FDA of the BLA acceptance of our DaxibotulinumtoxinA for Injection for the treatment of glabellar lines." That was followed by an agreement to acquire HintMD, an integrated financial technology (fintech) platform for the aesthetics industry. "The addition of HintMD will allow Revance to provide aesthetic practices with both premium products and services, enabling physicians to deliver a prestige experience to their patients."
"We continue to make progress on our remaining clinical, regulatory, and commercial milestones for 2020," Mr. Sjuts says. The RHA Collection of dermal fillers and the HintMD smart payment, subscription, and loyalty platform are both expected to launch in the third quarter.
The PDUFA date for Daxibotulinum-toxinA for Injection is November 25.
2. Adding the Teoxane RHA FILLER line was a "logical decision."
"There is significant overlap in facial injectables between neuromodulators and dermal fillers, so adding a filler to our portfolio was a logical decision," Mr. Sjusts suggests. RHA technology delivers the first and only dermal fillers that are FDA-approved for the correction of dynamic facial wrinkles and folds. "They are highly complementary to our investigational neuromodulator DaxibotulinumtoxinA for Injection and are integral to our building a synergistic portfolio of products and services that aims to establish a whole new prestige segment in the facial injectables market," he says.
3. Revance Focused on Growth During Shelter-in-Place.
"We have very effectively used the COVID-19 shelter-in-place timeframe to hire a robust sales force and design a comprehensive education program to provide a solid foundation of experienced injectors, prior to the full-scale roll out. In the coming months, our sales organization will be offering hands-on training for select accounts and key opinion leaders, which will be followed by a broader training and product sampling program," he shares.
The company is focused on communicating with and educating physicians, while adhering to safety and meeting protocols from practice-to-practice. "While COVID has restrictions as it relates to access, there's a lot of pent up demand. Our strategic intent with the prestige products we're bringing to the market is to deliver on that demand," Mr. Sjuts adds.
4. Revance envisions a prestige market.
"At Revance, we are building a powerful prestige aesthetics category, focused on differentiated facial injectable products, improved outcomes, and an elevated experience for health care professionals and patients," Mr. Sjuts asserts. That category "will offer both products and services, uniquely valued to a specific subset of patients," Mr. Sjuts says.
Noting that the consumer experience with botulinum toxin type A treatments has remained largely unchanged since Botox was introduced over 30 years ago, Revance hopes—pending FDA approval—to "introduce the first and only neuromodulator product with a proprietary peptide formulation. DaxibotulinumtoxinA for Injection combines this proprietary stabilizing peptide excipient with a highly purified botulinum toxin that does not contain human or animal-based components," Mr. Sjuts says. "Our market research and engagement with key opinion leaders in this space gives us the confidence that physicians and patients are eager for innovation in products and services."
5. There are high hopes for Daxibotulinum toxin.
Mr. Sjuts highlights two points of pride for DaxibotulinumtoxinA for Injection: it is developed and manufactured exclusively in the US and has been evaluated in the largest ever neuromodulator clinical program ever conducted for the treatment of glabellar (frown) lines.
"The BLA under review includes results from three Phase 3 trials (SAKURA 1,2,3)…In the Phase 3 program, the median time-to-loss of none or mild wrinkle severity was 24 weeks, and the median time to return to baseline wrinkle severity was approximately 28 weeks."
Mr. Sjuts adds, "Our key clinical development plans continue to advance, and we expect to deliver results for multiple Phase 2 aesthetic studies this year, including studies in forehead lines, crow's feet and in the combined upper facial lines."
Restylane Kysse Earns Positive Kissability Satisfaction for Patients and Partners
In a first-of-its-kind Phase 4 Kissability study for an injectable hyaluronic acid (HA) lip filler, researchers evaluated subject satisfaction as well as partner satisfaction following treatment with Restylane Kysse. Many consumers report they often keep their lip treatments a secret and have concerns about partner perceptions after injection. In the Kissability study, all subjects (100 percent) and a majority of their partners (90 percent) were satisfied with their lips after Restylane Kysse treatment, with most partners (73 percent) reporting a more kissable and natural feel.
The Phase 4 Kissability data also found that subjects agreed that their lips had a natural look (96 percent) and that they felt more attractive (87 percent) after treatment with Restylane Kysse. Ninety-eight percent of subjects also reported they were satisfied with the kissability of their lips after treatment.
"The Phase 4 Kissability study helps answer the ongoing question from patients to their aesthetic provider: 'How will my partner react?' The data from this study supports that Restylane Kysse resulted in overwhelmingly positive partner satisfaction with both kissability and appearance," says Janelle Vega, MD, board-certified dermatologist and paid Galderma consultant in Miami, FL. "The use of XpresHAn Technology in Restylane Kysse helps patients look more natural when they are smiling, speaking, laughing, and even kissing."
All subjects in the Restylane Kysse Phase 4 study were over the age of 21, in a steady relationship with a partner for at least six-months and had the intent to undergo lip augmentation.
Completed separately by the subject and their partners, at home, the innovative Kissability Questionnaire explored how satisfied partners were with subjects' lips after injection, and if they were even more kissable. Primary endpoint included subject-assessed Global Aesthetic Improvement Scale (GAIS) at week 8 and secondary endpoints included independent photographic review of naturalness of expression, age, and lip texture, adverse events (AEs), FACE-Q satisfaction with lips (subject) and Kissability questionnaire (between visits). This Phase 4 study was open to people of all races and ethnicities. This has been a critical factor in the design of all of our aesthetic studies since 2016 so that our research is reflective of the world we all live in.
Galderma is working closely with their aesthetic health care provider partners, while following all safe and proper social distancing guidelines, to offer Restylane Kysse in health care providers' respective practice locations across the country.
Take Five: Soliton's Wally Klemp

Patients treated with Soliton's investigational Rapid Acoustic Pulse (RAP) device experienced an average 32.5 percent improvement in Cellulite Severity Score, according to newly released data presented by Elizabeth Tanzi, MD, Director at Capital Laser & Skin Care, Chevy Chase, MD, at the American Academy of Dermatology (AAD) 2020 VMX Virtual Conference.
Among 62 evaluable subjects in the pivotal cellulite clinical trial, 85 percent of subjects responded to treatment with the improvement in the Cellulite Severity Scores ranging from 6.7 percent to 85.7 percent.
Dr. Tanzi, a member of Soliton's Scientific Advisory Board, notes that while existing therapies for cellulite provide some benefit, "there's a lot of room for improvement," She suggests the Soliton technology is, "exciting to me for a number of reasons. First, this was a single treatment. We need additional research to determine what happens after multiple treatments. Also, we need to investigate the best interval between treatments because what we are seeing is that clinical results seem to improve over time, which is the exact opposite from the non-invasive treatments that are on the market today."
Dr. Tanzi notes that, "The three independent evaluating physicians were able to correctly identify before and after photos about 85 percent of the time," Dr. Tanzi says. "I think that's important, as well as the overall subject satisfaction. When asked if their cellulite appeared improved, approximately 92 percent of the subjects said they agreed or strongly agreed."
Subjects in the study received a single treatment to one buttock and thigh area, with baseline pre-treated photographs serving as a control. Results were assessed using the validated Simplified Cellulite Severity Scale. Treatment was administered with no pain control. No unexpected or serious adverse events were reported, and the average pain scores were 2.4 on a 10-point scale.
Co-Founder and Executive Chairman of Soliton Wally Klemp recently spoke about the company and its novel technology.
1. The Technology is "Entirely New"
"We make the assertion that this is an entirely new form of acoustic pulse technology," says Mr. Klemp. "Our mechanism of action is not only unique, but it has a range of potential applications." The platform is cleared as an adjunct to 1064 Q-switch laser for tattoo removal. "With the new positive pivotal cellulite data, we're well on our way with the cellulite indication and we've also recently reported positive results in a proof of concept trial for keloid and fibrotic scars." Mr. Klemp and company co-founder and CEO, Dr. Chris Capelli, predict that those three indications offer in excess of $10 billion worth of total global market opportunity
2. Pulse Speed Matters
Though the Soliton RAP technology shares some basic similarity to the familiar ZWave device, there are key differences, Mr. Klemp says. For example, the latter device pulses averages around a megapascal, the Soliton device is capable of hitting 10 times that level of peak pressure. "That seems important, but it's really not nearly as important as some of the other characteristics," Mr. Klemp says. "We make our acoustic pulses essentially using electrohydraulics…the benefit is, not only are we capable of hitting much higher peak pressures, but more importantly, we can do this in a very short period of time, less than 100 nanoseconds compared to 25 microseconds. That speed is really important when we get down to mechanism of action.
"We all know this intuitively because we know sound travels faster through water than through air, for example. Well, the same holds true for dermatological structures. The septa in the skin that connect the dermis to the body fascia through subcutaneous fat are an important target. They're responsible for the appearance of cellulite, for example. Those septa are more dense and much stiffer than the surrounding subcutaneous fat cells. And when you have this much of a high speed acoustic event, when it encounters a change in stiffness, in the stiffness of the medium that it's traveling through, you get what are called shearing waves or shearing effects. So it's the speed, not so much the peak pressure, that is responsible for this shearing effect."
3. Consumables Serve a Purpose
The Soliton platform represents, "a razor and blade revenue model, where the handpiece has a removable and replaceable cartridge," Mr. Klemp says. The cartridge is a, "legitimate consumable. It is expended in the process of a typical office visit for a patient. And it has to be replaced because it literally wears out."
4. Treatment is Comfortable
Treatment with the Soliton RAP technology is not associated with any significant pain. "We're typically in our clinical trials sometimes zero, but on average, probably closer to two, to two and a half on a 10-point pain scale. Some patients can sleep through our procedure, it's that innocuous," Mr. Klemp says. "So no anesthesia required. There are no adverse events, no bleeding, no bruising, no downtime whatsoever."
5. "Hardcore Research" is at the Root
The Soliton RAP platform, "is part of what resulted from five years of hardcore research. And that first five years consumed $25 million worth of R&D spending," Mr. Klemp says. "So this was a monumental undertaking, and it's brand new science."
FDA Approves Juvéderm Voluma XC for Augmentation for Chin Region
The FDA has approved Allergan Aesthetics' Juvéderm Voluma XC for the augmentation of the chin region to improve the chin profile in adults over the age of 21. According to Allergan Aesthetics, an AbbVie company, the Juvéderm Collection of Fillers has the broadest portfolio of specifically tailored treatment options, and this latest approval marks their fifth approved indication in the US.
Juvéderm Voluma XC is the first filler to receive US FDA approval for the augmentation of the chin region. This approval marks the second indication for the product, which was previously approved by the FDA in 2013 for cheek augmentation to correct age-related mid-face volume deficit. Juvéderm Voluma XC is currently the number one product in the Juvéderm portfolio in the US and lasts up to two years with optimal treatment for cheek augmentation.
"Within my practice, I've seen a growing demand for patients looking to achieve more balanced symmetry in the face. During facial assessments, most patients don't realize that chin augmentation is another component to achieving the facial harmony they desire," says Dee Anna Glaser, MD, dermatologist in St. Louis and clinical trial investigator. "This approval is a truly exciting milestone for providers as it signals another paradigm shift in the way we are able to approach a facial consultation. I am excited to educate patients that we have a safe and predictable non-surgical treatment option to address their concern."
In the US pivotal study, Juvéderm Voluma XC was shown to be safe and effective for augmentation of the chin, with the majority of patients reporting high satisfaction throughout the one-year follow-up.
Since 2018, all clinical trials for the Allergan Aesthetics portfolio have included participants reflective of a diverse patient population and demographics, including varying genders, ages, races, and ethnicities.
By The Book
Modern Aesthetics® Book Review: The Business of Dermatology, 1st Edition, by Jeffrey S. Dover, MD, FRCPC and Kavita Mariwalla, MD
In their new textbook, the authors map out the path to success for dermatologists and aesthetic specialists no matter where they are in their career.
By Denise Mann, MS and Steve Dayan, MD
You just finished your fellowship and are ready to join a dermatology practice, or maybe you're starting to really consider that highly lucrative offer from the private equity firm that bought up your colleague's practice, or perhaps your practice is growing and it feels like the right time to bring on another physician.
No matter what the business scenario, The Business of Dermatology, 1st Edition, written by Drs. Jeffrey S. Dover and Kavita Mariwalla, meets you where you are and helps you get to the next level with ease by providing actionable advice from experts and those who have "been there, done that."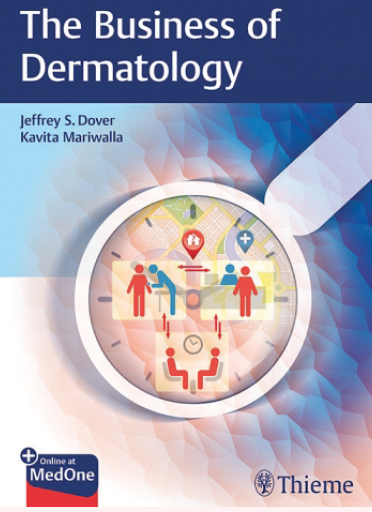 The new textbook walks readers through every aspect of running a practice from the pros and cons of renting or buying office space and how to write a rock-solid business plan to evaluating a laser for purchase and stocking up on curettes, scalpel holders, blades, and skin hooks (with sterilization tips).
"Business acumen is not taught in residency and is the most overlooked aspect of any given practice," says Dr. Dover, co-director at SkinCare Physicians in Chestnut Hill, MA.
Dr. Mariwalla, a dermatologist in West Islip, NY, tapped experts in every aspect of managing a dermatology practice to share tips and pearls in their new textbook.
"The chapter about design of the office space is so helpful because it actually has architectural plan drawings in it and written from the perspective of a busy dermatologist and his architect wife," she says. "Some of my other faves are the chapter by [former Human Resources Business Partner at SkinCare Physicians, Inc.] Cynthia Forbush on employee manuals, because that is truly out of my doctor's wheelhouse and that chapter gives some nice practical tips."
Industry vet Wendy Lewis, Founder/President of Wendy Lewis & Co. Ltd., a marketing communication boutique in New York City and author of 12 books including Aesthetic Clinic Marketing in the Digital Age, discusses the importance of managing your online reputation in the new textbook. "This textbook is the new definitive guide for residents, fellows and practicing dermatologists to learn how to navigate the changes in practice management and promotion, and flourish in the current environment," says Lewis. "It's a keeper!"
This book includes complimentary access to a digital copy on thieme.com/books-main/category/dermatology
Use the Derm15 code for a 15% discount.
Alastin Skincare Scores Another New Patent
Alastin Skincare, Inc. received a fourth US Patent from the United States Patent and Trademark Office. The new patent, which incorporates TriHex Technology, is directed to a topical composition for alleviating bruising caused by a cosmetic procedure—INhance Post-Injection Serum with TriHex Technology.
"I love the new INhance Post-Injection Serum with TriHex Technology® which has improved patient satisfaction with injectable procedures as a result of noticeable reductions in black and blue color of the bruise and post-procedure swelling," says Shino Bay Aguilera, MD of Shino Bay Cosmetic Dermatology and Laser Institute, in a news release. "The added antiaging benefits of TriHex Technology in supporting the skin's ability to create new collagen and elastin make the addition of INhance Post-Injection Serum a must-have in any aesthetic practice."
"We are immensely proud of the scientific investment we have made in validating TriHex Technology performance in our product formulations which is confirmed by its numerous patents. INhance Post-Injection Serum combines the antiaging benefits of patented TriHex Technology and our new ChromaFADE Technology to deliver state of the art post-procedure recovery and skin enhancing benefits," adds Alan Widgerow, MBBCh (MD), MMed (MHS), FCS, FACS, Chief Medical Officer at Alastin.
My New Favorite Thing: Allergan's Cooltone

"I'm excited about Cooltone for a few reasons. On the science side, it's a powerful device that provides both an excellent aesthetic option for toning, but also the possibility of functional improvement in core strength. My patients have already noticed changes during workouts and have loved the visible improvements when they look in the mirror. As more and more research is done, I'm excited at the possibilities with the technology and look forward to expanding the many uses for it in my clinic."
---
Dhaval Bhanusali, MD, FAAD
Dermatologist
New York City
Revance's Daxi Looks Good in Phase 2 Studies of Forehead Lines and Crow's Feet
Revance Therapeutics, Inc.'s next-generation neuromodulator product, daxibotulinumtoxinA, safely and effectively smoothed forehead lines and Crow's feet with a median duration of 27 weeks in forehead lines and 24 weeks in crow's feet achieved in at least one treatment group, according to two Phase 2a open-label, dose-escalation studies.
DaxibotulinumtoxinA for Injection has been given a Prescription Drug User Fee Act (PDUFA) VI program date of November 25, 2020, by the FDA.
In the forehead lines study, a total of 61 subjects were randomized into one of four dose groups with each receiving 40 units of daxibotulinumtoxinA for Injection in the glabellar complex, followed two weeks later by injections of either 12, 16, 24, or 30 units in the forehead for a total study duration of up to 38 weeks. In the crow's feet study, a total of 63 patients were randomized into one of four dose groups to receive either 12, 24, 36 or 48 units of daxibotulinumtoxinA for Injection, then followed for up to 36 weeks.
The primary endpoint for efficacy was the percentage of subjects achieving a score of none or mild in wrinkle or line severity at Week 4 either at maximum eyebrow elevation for forehead lines or at maximum smile for crow's feet. The scores were based on the investigator assessment. In the forehead lines study, all subjects achieved a score of none or mild at Week 4 in at least one treatment group. In the crow's feet study, 88 percent of subjects achieved a score of none or mild at Week 4 in at least one treatment group.
In addition, the proportion of subjects with a measurable treatment effect, as assessed by the investigator, was analyzed. A dose-dependent change in percent of subjects with at least a one-point change from baseline was observed. In both studies, all subjects achieved a score of at least a one-point change from baseline at Week 4 in at least one treatment group.
One of the exploratory endpoints in these studies was duration of effect, defined as the median time to return to baseline wrinkle severity based on both investigator and patient assessment. At least one dose in each study demonstrated a median duration of effect of 27 weeks in the forehead lines study and 24 weeks in the crow's feet study.
In these two Phase 2a studies, daxibotulinumtoxinA for Injection was well-tolerated at all dose levels. Adverse events were mild, localized and transient as expected and there were no treatment-related serious adverse events, as is common with other approved neuromodulators in the treatment of facial lines.
Interim Week 4 data from these two Phase 2a studies were used in the final design of Revance's current upper facial lines Phase 2 study (glabellar lines, forehead lines, and lateral canthal lines), to optimize dosing and injection patterns. Revance is scheduled to report results from that study in the fourth quarter of 2020.
Bimini Health Tech Acquires Healeon
Bimini Health Tech has acquired Healeon Medical, Inc., a company that designs, develops, manufactures, and markets medical devices for autologous, point-of-care treatments.
Healeon's products include: the signature HD PRP system which features an array of PRP tubes and accessories to produce a more potent PRP, in denser concentrations and higher volumes at the point-of-care; Healeon LTM System, a sterile, closed-loop platform for micro-fragmenting adipose tissue—including the Evulse Adipose Micronizer to fragment and maintain the viability of the cell and tissue structure; and the SURE-Loc disposable cannula, for consistent removal and injection of fat tissue. Healeon's future pipeline includes of a family of products focused on enhancing and simplifying PRP and adipose-based processing.
"The acquisition of Healeon brings tremendous value to Bimini's current product portfolio. Healeon's commercially available PRP products and adipose product pipeline allows Bimini to offer a comprehensive set of autologous (cells or tissues obtained from the same individual) therapies to physicians globally," says Brad Conlan, CEO of Bimini Health Tech, in a news release. "The Healeon technology is complemented by a team bringing years of medical device sales and marketing experience to Bimini. The combination of our two companies further establishes Bimini as a global leader in the regenerative medicine market."
"Healeon is thrilled to become part of the Bimini portfolio, continuing our mission of bringing novel technologies to the global regenerative medicine marketplace. The combined experience coupled with the breadth of products, positions Bimini Health Tech to be a formidable leader for years to come." says Jeff Greiner, CEO of Healeon Medical, Inc.