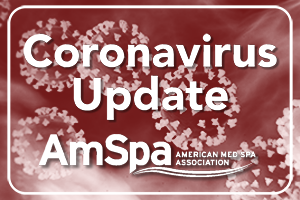 The American Med Spa Association (AmSpa) recommends medical spas close their doors for a minimum of 30 days due to concerns related to Coronavirus and COVID-19.
CEO Alex Thiersch states, "Like all of you, the American Med Spa Association (AmSpa) team has been closely monitoring the developments surrounding the spread of COVID-19. Although the lack of testing and complete information has made it difficult for governmental leaders to come to any sort of consensus, the scientific community has been very consistent in its position that drastic and immediate action is needed.
"In order to contain this outbreak—and, more importantly, to shorten the timeline of economic hardship to all—nearly every epidemiologist, infection specialist, and researcher has made the same recommendation: all elective surgeries and non-essential medical procedures that can be delayed, should be delayed. It is the recommendation of the U.S. Surgeon General, the American College of Surgeons, and the White House Coronavirus Task Force that all non-essential medical procedures be postponed. Many cities and states are taking this stance, as well.
"Accordingly, it is AmSpa's strong recommendation that all medical spas close their doors and refrain from offering any elective procedures for at least the next 30 days, or until further notice. Although this will be a difficult time for us all, AmSpa strongly encourages its members and the industry at large to heed this advice.
"These are difficult times for all of us, and unfortunately, difficult times result in leaders having to make difficult decisions. This is one of those times. Closing your business can have devastating consequences, even for a week, let alone 30 days. We at AmSpa understand that, and, as a small business, we're living it, too. Our livelihoods are at stake here, and the decision to recommend that members shut down – let alone having to actually do it – is a painful one. We understand what this means for all of you, and the gravity of this recommendation for the entire industry is not lost on us.
"I strongly believe, however, that the medical aesthetics industry will all pull through this, but not without help, both from others in the industry and from outside agencies. AmSpa is committed to providing as much support, influence, and information as we can to help each of you through this difficult time. To ensure our industry's continuing viability, AmSpa has already begun doing the following:
I have personally reached out to the heads of the largest industry suppliers (Allergan, Galderma, Merz, etc.) and requested that they work with our members on outstanding invoices and expired product, including postponing current invoices by at least 30 days (with more extensions if needed). As many of you know, their response has been encouraging and I have no doubt all industry vendors will be flexible with their accounts receivable.
AmSpa is providing as much content, information, and guidance as possible to its members.
AmSpa is providing guidance on obtaining emergency capital and funding. (We have already reached out to the U.S. Small Business Administration (SBA) to learn the process for accessing their disaster relief fund, and we hope to have more information within a day or two).
AmSpa is encouraging our leaders at the federal level to allocate relief funds for aesthetic businesses impacted by the COVID-19 pandemic."