Correctly investing in your practice can be a challenge for any practice. By setting a budget, you may be able to analyze what would be the best investment for the set amount. For example, if you have $100,000, what investments would be most beneficial to your practice or would maximize your patient's experience and provide the greatest return on investment (ROI)? For most offices, consider spending money on marketing, hiring, and renovating your practice.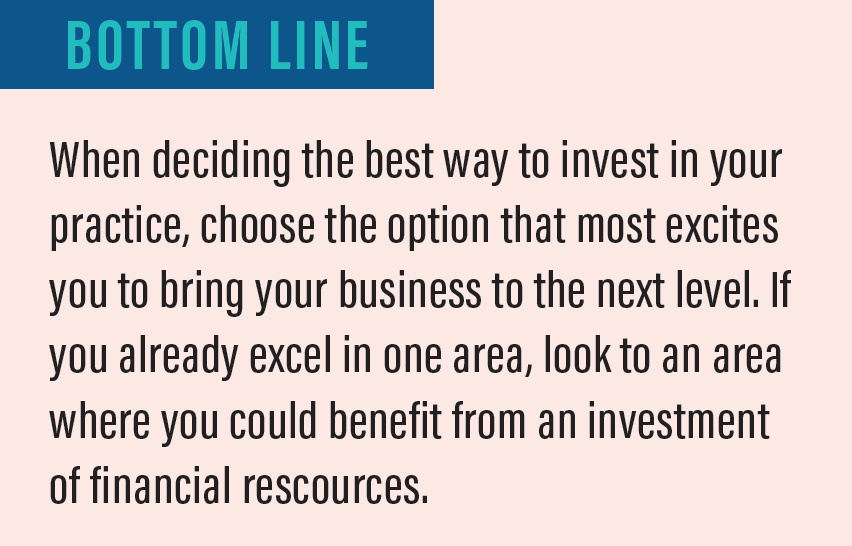 Marketing
Marketing is one of the best investments. Focus your marketing dollars on creating content to educate patients while highlighting your expertise. Choose the one or two things that make your practice unique and use those to build a marketing plan to draw in new patients and inform established ones. Remind your viewers and readers that you are the authority in all things related to skin or aesthetics.
Online marketing is becoming more important. Dermatology practices that are maximizing their SEO and understanding best practice strategies are boosting visibility to grow their patient base. There are several cost-effective ways to target your ideal target population by utilizing Facebook and Instagram. Remember that videos and interesting photographs are key for engagement. Providing education about skin exams, skincare, and skin procedures, rather than placing ads for discounts, will grow your practice. Building or expanding a professional online presence will result in trackable ROI.
Hiring a Dermatologist, Dermatopathologist, Mohs Surgeon, or Physician Extender
Hiring a board certified dermatologist is typically a great investment for your practice as it improves access for your patients. The hiring process takes both a time and financial investment. If you have more than a six to eight week wait to obtain an office visit, you should consider hiring a colleague. Moreover, identify your treatment offering gaps. For example, if your practice performs more than 100 biopsies a week, consider hiring an in house dermatopathologist. If you confirm more than 100 cancer cases per month, consider bringing in a fellowship trained Mohs surgeon to treat these cases in the comfort of your clinic. Are your patients asking for more access to you, specifically? You may want to bring on a physician extender to start your H&P, with you coming in to confirm diagnoses and the plan of action. Recruiting an experienced professional that matches your practice's values and mission can enhance your patients' experience as well as improving your bottom line.
Renovate, Add, and Educate
Constantly renovating your practice is not always top of mind, but it is more important than most people realize. What does a new patient see when (s)he first enters your office? Is the signage prominent? Is the waiting room well lit? Does your receptionist have a smile on his or her face when greeting your guest? Patients will not remember what you say or do, but they will remember how they felt.
Your reception area should be inviting. If you have old-fashioned flickering fluorescent lights, consider investing in LED bulbs to provide a daylight type experience. If you have nicks in your walls or small holes your furniture, repaint and reupholster to allow your patients to know you are careful about all aspects of your practice.
Consider adding technology to meet your patients' needs. For example, two of the most commonly treated conditions in a dermatology office are acne and rosacea. Are you using the most up-to-date technology to treat your patient? If you do not currently have the best devices to compliment your pharmaceutical treatment of acne, consider adding a device such as the Aerolase Neo® Elite, which rapidly improves active acne, post-inflammatory dyschromia, and mild acne scars in all skin types. At Refresh Dermatology, we offer this procedure to patients two weeks after starting their topical or oral acne regimen. In addition to quickly gaining the patient's trust with rapid improvement of acne in days rather than weeks, the patient becomes more compliant with your skincare recommendations. In addition to a satisfied patient, your bottom line improves when you choose a reliable device that has no consumable and can also be used to treat other common dermatologic conditions, such as rosacea, psoriasis, telangectasias, lentigines, and hirsutism.
Don't forget to invest in educating your team. Does your medical assistant know how to properly explain your protocol for treating eczema, psoriasis, and acne? Is your aesthetician up to date on the latest topical formulations and your skincare recommendations? If you expand his or her knowledge, you will be able to exit the room with confidence to see your next patient. Does your team understand the breadth of skincare and procedures you offer to enhance a patient's skin? Let your medical assistant be an active participant in your patient's journey.
Take Stock
When deciding the best way to invest in your practice, choose the option that most excites you to bring your business to the next level. Budget and invest in yourself and your patients.