In each issue, Modern Aesthetics® magazine asks top cosmetic physicians about the devices that they are introducing to their patients. Here, Bruce E. Katz, MD, medical director of JUVA Skin and Laser Center in New York City, discusses what makes Cynosure's TempSure Firm stand out from other body contouring devices on the market.
What is Cynosure's TempSure Firm?
Bruce E. Katz, MD: TempSure Firm is the newest addition to Cynosure's TempSure platform. It combines monopolar radiofrequency (RF) and a specialized massage head to temporarily reduce the appearance of cellulite with no surgery or downtime. For the first time, we can tighten skin through soft tissue coagulation and actually reduce fat at the same time. This is one of the first technologies that we have worked with that achieves both endpoints.
How do the results compare to other RF body contouring devices on the market?
Dr. Katz: They all do about the same in terms of reducing the fat layer by about 15-20 percent, but TempSure Firm simultaneously tightens skin through soft tissue coagulation. The big advance is the fact that we can do this in a very short treatment, eight to 10 minutes, once a week for five weeks. The 60mm handpiece allows us to treat larger areas of the body very quickly, including the abdomen, buttocks, and thighs. The handpiece evenly delivers heat on target areas in a consistent and gradual manner.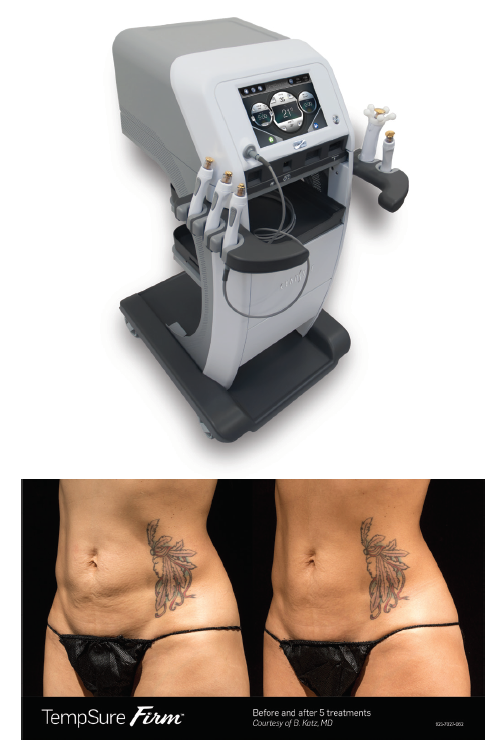 Is treatment painful?
Dr. Katz: This treatment feels like a massage, and the machine plays soothing spa music during treatment time. It feels like a spa treatment. It is very comfortable and there is no downtime whatsoever.
Who is an ideal candidate for this treatment?
Dr. Katz: Ideal candidates are women who are in good shape, work out regularly, and can't get rid of small pockets of fat on their abdomen and loose skin from pregnancy or men who have had weight ups and downs and their skin has stretched out as a result.
How are you combining TempSure Firm with other technologies?
Dr. Katz: TempSure Firm is a great complement to so many other treatments I trust and rely on in my practice. In fact, I pair WarmSculpting with SculpSure treatments for what I like to call a "full-body solution." I permanently reduce stubborn fat for my patients with the SculpSure device and TempSure Firm allows me to deeply heat the tissue. Developing a treatment regimen using both technologies allows me to offer unparalleled body contouring results that my patients can't get enough of.