Skin Acceptance Breaks Out
Skin acceptance and skinclusion are having a moment, finally.
Skin acceptance is a new subcategory of body positivity, and it even has offshoots of its own, most notably acne positivity (Google it). #Acnepositivity now has its own trending hashtag, too.
And this moment is quickly becoming a movement with good reason, says Jeanine B. Downie, MD, FAAD, director of image Dermatology PC in Montclair, NJ. We should be proud of our skin and its shade and celebrate and accentuate any differences, she says.
"Regardless of the skin condition that any adult or child has, they want to feel confident in their body," she shares. "I agree with the body positivity social movement that believes that all humans should have a positive body image by respecting their health and improving their energy and self-awareness."
This movement is also getting a big boost from some famous friends—namely Barbie and Ken. Barbie maker Mattel's Fashionista line now includes a doll with vitiligo, a doll with alopecia, a doll with a darker skin tone that uses a gold prosthetic limb, and a Ken with long, rooted hair. In fact, the top-selling doll for almost every week in 2019 was a curvy black fashionista with an Afro hairstyle, Mattel reports.
"The Barbie dolls with the different skin types/conditions celebrate diversity and inclusion," Dr. Downie says. "They make children who have either vitiligo or alopecia feel loved and appreciated. For Mattel to share the conditions these children may suffer from on a popular doll like Barbie I think is fantastic. "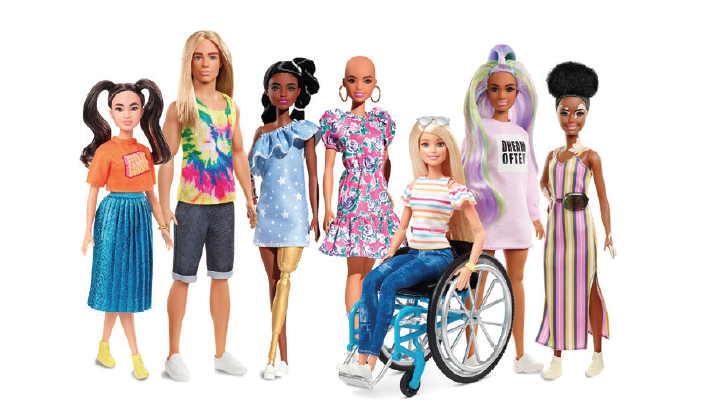 Woke companies such as Obagi are also giving fuel to this movement. Obagi includes all skin tones in its clinical research protocols and recently launched its Skinclusion initiative to elevate the global dialogue about diversity. The initiative features ambassador, actor, producer, and activist Priyanka Chopra Jonas.
Expect more device and skincare companies to follow suit and include Fitzpatrick types IV- VI in their research and protocols. Skinclusion is clearly the way forward.
---
New Products
DefenAge 3D Radiance Eye Cream, Progenitor Biologics
DefenAge 3D Eye Radiance Cream from Progenitor Biologics, LLC, the manufacturer and distributor of the scientifically backed skincare DefenAge New Skin, was named the NewBeauty 2020 Award Winner for "The Best Eye Cream for Dark Circles". This is DefenAge's second consecutive NewBeauty Award win. An innovation in eye care, the 3D Eye Radiance Cream contains DefenAge's proprietary defensin technology to activate the skin's reprogramming mechanism for more youthful-looking skin and noticeable anti-aging results. Defensins represent a new era in skin health and beauty, signaling skin to create new younger skin by activating the dormant preserve of "fresh" cells in the body. The revolutionary technology increases visible skin density and glow to boost brightness where consumers need it most. With patent-protected metal applicator with Cooling Tip Technology and smart finger-free application, the 3D Eye Radiance Cream addresses cosmetic concerns on a global scale—including visible lifting, firming, and smoothing of the upper eyelids, fading of dark circles and puffiness, and diminishing the appearance of crow's feet and fine lines. www.defenage.com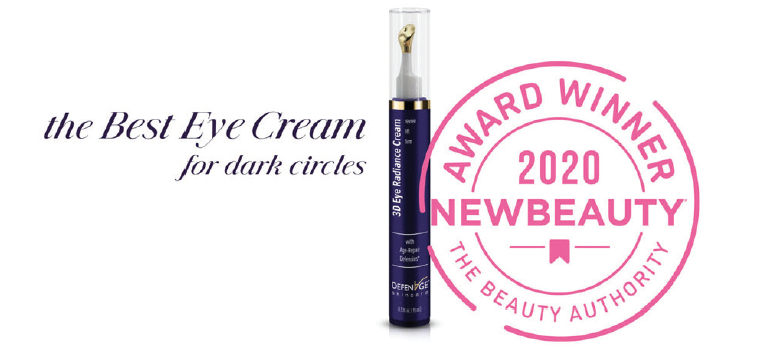 Dry Skin Oil, Delfina Skin
Delfina Skin has launched its Dry Skin Oil in the US. Developed by a physician, Dr. Norayr Chilingaryan, this skincare oil has already been a source of relief for people with psoriasis, eczema, and chronically dry skin in Armenia and the United States over the course of the past four decades. Delfina Skin Dry Skin Oil absorbs instantly, penetrating layers of skin to provide hydration and nutrition sustainable through frequent washing. Delfina Skin Dry Skin Oil is appropriate for all skin types and safe for all ages. The product is designed to soothe dryness caused by a variety of factors, including eczema, psoriasis, seasonal dryness, moisture loss from water or chemical contact, cracked heels, and aging. DelfinaSkin.com.
Acne Facial Series, Proactiv and Massage Envy
The Acne Facial Series from Proactiv is available at Massage Envy locations nationwide. The six-week program is catered to individuals who experience mild to stubborn acne, offering them a customized experience, following a specific protocol which is determined by an esthetician after a full skin analysis. Weekly appointments will be with the same esthetician to best evaluate the individual's progress. During each visit, the customer will receive an acne facial, along with the proper at-home regimen from the Proactiv+ line for their acne/skin type. Each esthetician completes a training program run by the Proactiv team, master estheticians, and are provided access to educational tutorial videos. Proctiv.com
Sport SPF 45, C®TZ
COTZ® launched COTZ Sport SPF 45. Designed for everyone from outdoor enthusiasts to serious athletes, as well as the environment, this non-tinted all mineral sunscreen offers broad spectrum sun protection in an ultra-clean formula that is as high performing as the men and women who wear it. Non-tinted, smooth and easy to blend, COTZ Sport SPF 45 disappears evenly on all skin tones and is essential for outdoor actives who care about their skin and our planet. Active ingredients Titanium Dioxide (3 percent) and Zinc Oxide (10 percent) are combined with plant-based botanicals to provide safe, clean and effective sun protection for active individuals. COTZ, which stands for Contains Only Titanium and Zinc, has been devoted to the mineral sunscreen movement for nearly two decades. The line is 100 percent free of chemical sunscreens and works by reflecting harmful UVA-UVB rays away before they can penetrate the skin. Ideal for those hikes, bike rides, and surf sessions, COTZ Sport SPF 45 is water resistant for up to 80 minutes so athletes can get more out of their workout. COTZ Sport SPF 45 also dries quickly, so it won't drip into eyes when things get heated. In addition to being free from chemical sunscreens, COTZ Sport SPF 45 is USDA Certified Biobased, containing 93 percent USDA certified biobased content. It is also reef friendly, free of gluten, preservatives, parabens, phthalates, and fragrance, and is not tested on animals. cotzskincare.com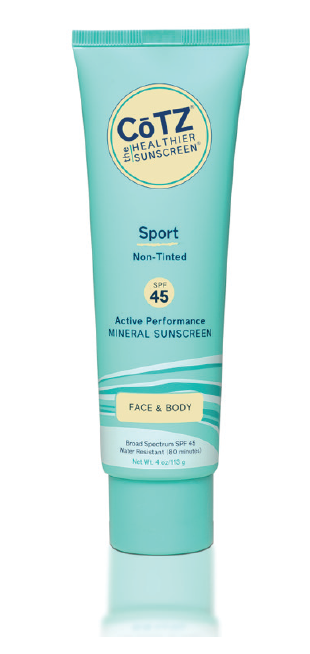 Theraderm Skin Renewal System, Theraderm
Theraderm Skin Renewal System prevents and reverses UV damage. By using the system's four products twice a day, it appears that it might be possible to actually wipe the slate clean of UV injury that has already happened to skin throughout the day—whether you used sunscreen or not. Theraderm incorporates a patent-pending formulation that is currently being proved in a bio-engineering university study to prevent most permanent sun-related damage when used after skin injury occurs. This is accomplished with medical-grade formulations and a mix of ingredients that includes the primary natural mediator of energy storage and use in the body, enzymes, powerful antioxidants and patented peptides. One of the patent-protected peptides is exclusive only to Theraderm products and is proven to reduce and repair signs of aging in the skin itself. The Skin Renewal System Contains: Cleansing Wash, Fruit Acid Exfoliant, OPC Repair Serum, and Moisturizer based on skin type (oily, dry, mature, sensitive). It is recommended that consumer follow it up with Theraderm Platinum Protection Facial Sunscreen SPF 43 for added prevention. Founder & CEO Dr. James Beckman says, "using the Skin Renewal System plus SPF is like having a raincoat and an umbrella." TheraDerm.net