Making predictions is usually a fool's errand, but we are betting our marketing pros are spot on when it comes to their predictions for 2020. Find out what they believe these trends can mean for your practice and how you can best leverage them to your advantage this year.
2020 WILL BE THE YEAR OF AI
By Wendy Lewis
Although some have a gut reaction to dismiss AI or artificial intelligence as something that doesn't apply to medical aesthetics, you may be doing so at your own peril. Like all things technology-driven, some take a wait-and-see approach, while others want to be the first on their block to embrace it. AI is actually not so new anymore; what is new is how wide its applications are growing and how more invested large and small businesses are in it. In 2020, all medical practitioners need to get up to speed on how it is already impacting the way they practice and what's coming next. Most of your competitors certainly will be.
Formerly reserved for the likes of Elon Musk, AI solutions for small business applications and medical records are on the uptick and there are myriad benefits to tap into.
The Smart Practice
AI is used to analyze data more efficiently and quickly than humans can, so marketing tactics are more targeted, and thus more effective. Scheduling is where AI can be a real game changer. It has the ability to determine how much time each procedure will take to maximize efficiencies. Automating patient intake forms and other routine follow-up tasks that do not require a personal human touch is already possible with AI. Many hospitals and health insurance plans now actively discourage calls and emails.
Virtual assistants have already been infused into our day-to-day lives due to the obvious cost savings to businesses and time saving benefits for consumers. Just think of how many ways you already use Alexa, Siri, or Google Assistant in a given day. Sophisticated 24/7 chatbots have revolutionized customer service by reducing wait or hold times and communicating with retailers, hotels, airlines, etc. For example, Delta now uses a chatbot to limit hold times for customer callers by answering a wide range of questions via text and referring the customer to a live person only as needed.
This is just the tip of this giant iceberg. Think of any mechanical task that can be accomplished without getting out of your chair, bed, house, car or without picking up a phone or device—these are all prime targets for AI applications.
AI-driven Marketing Tactics
AI has the potential to revolutionize how practices market to patients, from tracking their preferences and spending habits to determining what keeps them coming back. It is fundamentally changing how we can market to consumers by automating the targeting process. Think about how sophisticated ad programs on Facebook have become. They can be programmed to target specific users by gender, age, profession, location, interests, profession, etc. and are able to analyze data with less and less input from humans.
In the very near future, AI adaptation is poised to be a selling point for savvy aesthetic patients. Start now so you don't get left behind!
---
2020 Will be the Year of the Chain
By David Evans, PhD, MBA
The march toward consolidation and commercialization will continue across health care, and aesthetic medicine will not be immune. The raging stock market is fueling increased investment in private equity firms that are purchasing health care practices. This is rapidly resulting in the formation of health care service organizations and the creation of "chains" for marketing to patients. The impact of chains such as Sono Bello will be most widely felt in aesthetic medicine in 2020.
This trend presents specific challenges to individual private practitioners, as the chains are naturally positioned to be the experts in a particular type of procedure/treatment and typically have large marketing budgets.
Several steps can be taken to solidify and grow your market share in the face of this increasing competition. First, ensure the image you present online is fresh and updated. Make sure to include all new technologies or new procedures offered in your practice on your website. In today's environment, you are what appears online. Prospective patients evaluate you and compare you to your competition, including the chains, based on your digital footprint. An up-to-date, highly attractive, interactive website is a must.
Second, to directly combat single-procedure-focused chains, which appear to have specific expertise in an area of treatment, you must build your review profile with procedure-specific patient reviews. Your review management system must capture procedure-specific reviews and post these reviews on the procedure-specific pages of your website. Think about it: Sono Bello's reviews will focus almost entirely on liposuction and fat removal. To combat this focus, you need to have a steady stream of five-star reviews focused on the same treatments.
---
2020 Will Be the Year of Embracing Change
By Mara Shorr, BS, CAC XIV and Jay A. Shorr, BA, MBM-C, CAC XIV
This will be the year to embrace new treatments in your practice and maybe hire a new provider to help you get things done!
This means embracing new marketing ideas—from finally owning the fact that digital media and its content are both king and queen to owning the fact that practices with more than three practicing physicians/surgeons need someone to focus on marketing. This means taking a close look at your patient demographics and embracing the social media channel or channels that best suits your audience.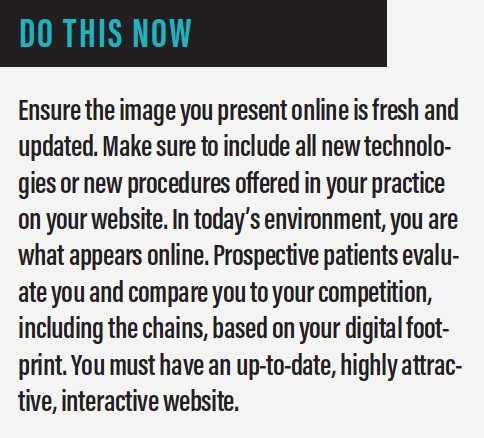 We've seen more and more surgeons and physicians going out on their own. We're watching excellent, trained providers ready to take their knowledge and years of expertise and move away from their employers to start their own practices.
This means embracing the fact that video has taken over where written words and even photos have left off.
This means moving away from the typical landline and moving towards a VoIP (Voice over IP) that includes technology to make decisions based on data instead of opinions.
Speaking of data, technology now makes it easier than ever to obtain your conversion ratios, automate a follow-up campaign, pull numbers for patients who haven't been back to see you in more than three months (and automate a message inviting them to return), and much more. This is the year to finally invest in that technology to make your life easier. It's more work on the front end to set everything up, but with technology making your life easier down the line, it's worth it.