One of the most important financial decisions you will make in your lifetime is who you will rely on as a financial advisor. When evaluating potential advisors, understanding how financial professionals make money und their legal duty to you as a client should be considered as part of your decision-making process. Unfortunately, many investors believe that all advisors are the same in these two factors—when, in fact, this is not at all the case.
In this article, we will explore one fundamental difference between two types of financial advisors—those who have a fiduciary duty to their clients and those who do not. Not only is this a critical distinction for you as a potential client, it has also become a focus of the industry and the government in trying to regulate it.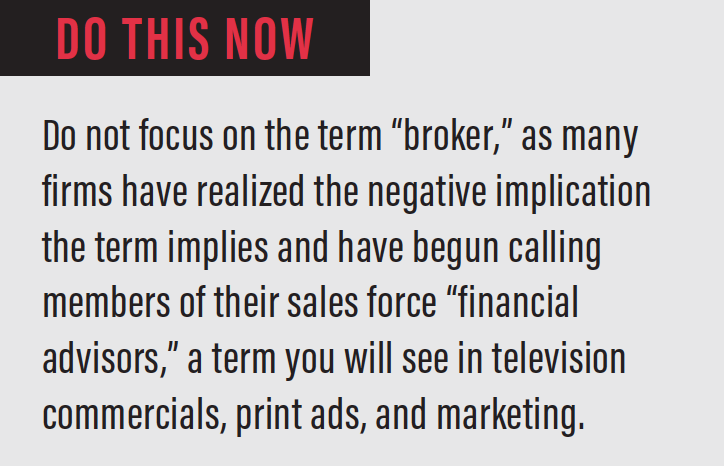 Fiduciary Duty vs. Suitability Standard?
Most investors are not aware that brokers and investment advisors are held to different standards in their dealings with clients. Registered investment advisors are held to a fiduciary standard. This means that they are required to make recommendations that are in the client's best interest. Contrast this with the "suitability" standard that dictates that brokers are simply required to make recommendations that are suitable based on the facts at the time of the interaction. Recently, the Department of Labor has sought to even the playing field by forcing upon broker-dealers a fiduciary duty concerning retirement accounts, but the broker-dealer lobby has fought against this. As of this writing, only RIAs are held to the higher standard of always looking out for their clients' best interests. On the surface, this may seem like a subtle difference, but it can have a substantial impact on the client.
As an example, if an advisor is compensated more when they place your wealth into one fund over another, there is an incentive to make decisions that may not be in your best interest. Imagine that a firm has a fund it wants its advisors to sell and is offering a reward every time they get a client to invest in that internal, proprietary fund. Even though that fund might carry larger fees than other similar products, the advisor still directs those dollars into the fund that pays out a larger commission or bonus. This doesn't sound like a relationship that any investor should want to maintain.
What are Your Options for Investment Advice?
If you choose to work with a professional investment advisor, the distinction between a fiduciary and suitability standard becomes crucial. Unfortunately, many investors rely on an advisor without understanding how the advisor is obligated to work with them.
The largest and most popular financial firms are broker-dealers. Broker-dealers are primarily regulated by Financial Industry Regulatory Authority (FINRA), under standards that require them to make suitable recommendations to their clients. Instead of having to place his or her interests below that of the client, the broker-dealer's suitability standard requires only that the broker-dealer reasonably believe that any recommendations made are suitable for clients. A key distinction in terms of loyalty is also important, in that a broker's duty is to the broker-dealer he or she works for, not necessarily the client served.
Please do not focus on the term "broker," as many firms have realized the negative implication the term implies and have begun calling members of their sales force "financial advisors," a term you will see in their television commercials, print ads, and marketing materials.
In contrast to large broker-dealers, a Registered Investment Advisor (RIA) is an advisor or firm engaged in the investment advisory business and registered either with the Securities and Exchange Commission (SEC) or state securities authorities. An investment advisor under the RIA model has a fiduciary duty to his or her clients, which means that he or she has a fundamental obligation to provide suitable investment advice and always act in the clients› best interests. The DOL rule had little impact on their business model of RIAs.
In addition to their fiduciary duty to clients, independent RIAs are not tied to any family of funds or investment products. Further, RIAs typically use independent custodians to hold clients' assets. For many investors, this provides a reassuring system of checks and balances because your money is not held by the same person who advises you about how to invest.
RIAs typically charge a fee based on a percentage of assets managed. This structure is simple, transparent, and easy to understand—unlike many broker-dealer models where understanding all the ways the broker and firm are compensated can be difficult, if not impossible. The typical RIA fee model also gives the advisor an incentive to help grow the client's assets—as the advisor succeeds when the client succeeds.
We would encourage investors to closely examine the qualifications of their current financial advisor(s), as well as anyone they are considering for this significant role. What licenses does the advisor hold? Does he or she have professional certifications? And, perhaps most importantly, does the advisor owe you a fiduciary duty to act in your best interests or are they subject only to the suitability standard?
Understanding how advisors make money and to whom they owe their duty (their clients or their firms) is a paramount first step in finding the right professional to guide you toward achieving your long-term financial goals. The authors welcome your questions.
The authors have recently completed Wealth Planning for the Modern Physician, their first book for physicians in five years. To receive free print copies or ebook downloads of this book or Wealth Management Made Simple, text AESMAG to 555-888, or visit www.ojmbookstore.com and enter promotional code AESMAG at checkout.
Disclosure: OJM Group, LLC. ("OJM") is an SEC registered investment adviser with its principal place of business in the State of Ohio. SEC registration does not constitute an endorsement of OJM by the SEC nor does it indicate that OJM has attained a particular level of skill or ability. OJM and its representatives are in compliance with the current notice filing and registration requirements imposed upon registered investment advisers by those states in which OJM maintains clients. OJM may only transact business in those states in which it is registered or qualifies for an exemption or exclusion from registration requirements. For information pertaining to the registration status of OJM, please contact OJM or refer to the Investment Adviser Public Disclosure web site www.adviserinfo.sec.gov.
For additional information about OJM, including fees and services, send for our disclosure brochure as set forth on Form ADV using the contact information herein. Please read the disclosure statement carefully before you invest or send money.
This article contains general information that is not suitable for everyone. The information contained herein should not be construed as personalized legal or tax advice. There is no guarantee that the views and opinions expressed in this article will be appropriate for your particular circumstances. Tax law changes frequently, accordingly information presented herein is subject to change without notice. You should seek professional tax and legal advice before implementing any strategy discussed herein.